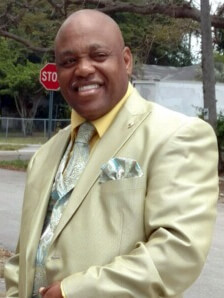 Christopher Cummings' life is a study in contrasts.
Where he was once homeless and alone, he is now a husband and father of four. Where he once ate out of a garbage can, he is now a proud public service worker who drives a garbage truck for Miami-Dade County, Florida. Where he once "ran around doing wrong," he now serves his community on those very same streets and neighborhoods, helping make his community a better, cleaner place every day.
"Twenty years ago, God gave me a second chance," says Cummings, 52, a member of Local 3292 (AFSCME Florida). "I take every day of my life seriously. Whatever I can do to help anybody, that's what I do."
On his birthday, March 21, Cummings considered taking the day off. Little did he know that instead he would find another opportunity to make the most of his second chance.
It was about 10:30 in the morning, and Cummings was a few hours into his shift, driving his garbage truck in Northwest Miami. Suddenly, he says, he saw a police car on a high-speed chase crash into another vehicle and flip over.
"My first instinct was to think that somebody needed my help," Cummings said. "So I stopped what I was doing and I went over to help. By the time I got there the officer was yelling, 'Get me out, get me out!' The car was in bad shape, I had to bend the door frame to pull him out. I grabbed his bulletproof vest and pulled him, and was able to bring him to safety. I'm glad I was able to help."
To Cummings, God works in mysterious ways.
"I remember at one time, I didn't care about a life," he says. "And now here I am, able to save a life."