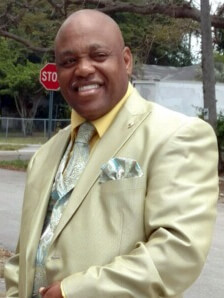 Christopher Cummings' life is a study in contrasts.
Where he was once homeless and alone, he is now a husband and father of four. Where he once ate out of a garbage can, he is now a proud public service worker who drives a garbage truck for Miami-Dade County, Florida. Where he once "ran around doing wrong," he now serves his community on those very same streets and neighborhoods, helping make his community a better, cleaner place every day.
"Twenty years ago, God gave me a second chance," says Cummings, 52, a member of Local 3292 (AFSCME Florida). "I take every day of my life seriously. Whatever I can do to help anybody, that's what I do."
On his birthday, March 21, Cummings considered taking the day off. Little did he know that instead he would find another opportunity to make the most of his second chance.
It was about 10:30 in the morning, and Cummings was a few hours into his shift, driving his garbage truck in Northwest Miami. Suddenly, he says, he saw a police car on a high-speed chase crash into another vehicle and flip over.
"My first instinct was to think that somebody needed my help," Cummings said. "So I stopped what I was doing and I went over to help. By the time I got there the officer was yelling, 'Get me out, get me out!' The car was in bad shape, I had to bend the door frame to pull him out. I grabbed his bulletproof vest and pulled him, and was able to bring him to safety. I'm glad I was able to help."
To Cummings, God works in mysterious ways.
"I remember at one time, I didn't care about a life," he says. "And now here I am, able to save a life."
For his bravery, Cummings was recognized by the Miami-Dade County government and honored with a proclamation. He also was given AFSCME's Never Quit Service Award, which honors public service workers who go above and beyond the call of duty.
Marcellous Stringer, a fellow sanitation truck driver and vice president of Local 3292, nominated Cummings for the Never Quit Service Award.
"For those of us who know him, it is somewhat unsurprising that he did it because that is who he is – someone who is always there saying a kind work, ready to help a coworker or neighbor, always willing to go the extra step because he knows how blessed each day on Earth really is," Stringer said.
Cummings met the officer a month after the crash.
"It brought tears to my eyes," Cummings said. "Just to see him and give him a hug. It was nice."
Cummings says the officer called him "a brother for life," and thanked him "for being there at the right time."
The Miami-Dade Police Department declined to identify the officer.
Not just anyone would have reacted to a life-threatening situation the way Cummings did. When he ran over to help, he says, he wasn't worried for his own safety: "I wasn't thinking about me at the time, I was thinking about him."
Cummings's heroism isn't limited to this one day. Public service workers like him never quit on their communities. They sacrifice daily, serving the public with pride to make our streets and neighborhoods cleaner, safer and better. And that's what makes them true heroes.