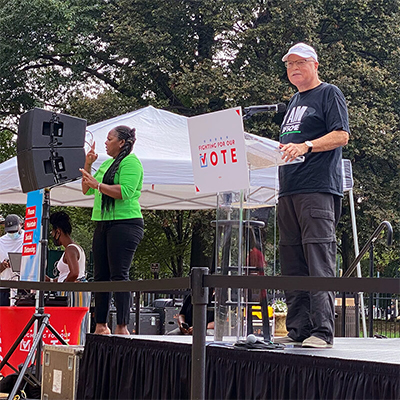 AFSCME members this past weekend joined rallies organized by Fighting for Our Vote to protect the right to vote and defend against attacks aimed at disenfranchising voters of color. The rallies were held in Washington and three cities in the Midwest – Detroit, Cleveland and Milwaukee.
Thousands of activists participated in the rallies, which featured speakers from labor, civil rights and social justice organizations. In addition to AFSCME, the Fighting for Our Vote coalition includes the National Association for the Advancement of Colored People (NAACP), the American Civil Liberties Union (ACLU), the AFL-CIO, the American Federation of Teachers (AFT) and the National Education Association (NEA), among others.
AFSCME joined the coalition because the right to vote is under attack in our country and everything our union cares about – every policy priority, from workers' rights to civil rights and more – depends on our ability to protect the integrity of our democracy.
"All the issues we care about depend on this struggle," AFSCME President Lee Saunders said at the Washington rally, which was held Saturday. "If you care about expanding union rights, this is your fight. If you care about increasing access to health care, this is your fight. If you care about fixing wealth inequality, this is your fight. If you care about retirement security, this is your fight. If you care about racial and social and economic justice, this is your fight."
The rallies marked the beginning of the coalition's mobilization effort to restore our voting rights, facilitate access to the ballot box for voters of color and educate millions of voters ahead of the 2022 midterm elections.
"This is just the beginning, make no mistake about it," Saunders said. "Throughout the coming year, we will be taking this message to targeted cities and states nationwide. … We will make sure elected officials in those places know that the people they represent are watching them … holding them accountable when it comes to protecting voting rights and fighting voter suppression."
Fighting for Our Vote seeks to pressure Congress to restore voting rights by passing the John Lewis Voting Rights Act; make mail-in voting and ballot drop boxes widely available in every community; guarantee a minimum of two weeks of early voting as well as expanded voting hours and curbside voting; and make sure every vote is counted, among other things.
"We want COVID health and safety standards to protect voters when they go to the polls," Saunders also said. "We must protect our poll workers – with PPE, hazard pay, and free emergency medical care if needed."
The Fighting for Our Vote coalition is encouraging all voters to contact their representatives in Congress and demand action to protect our voting rights.