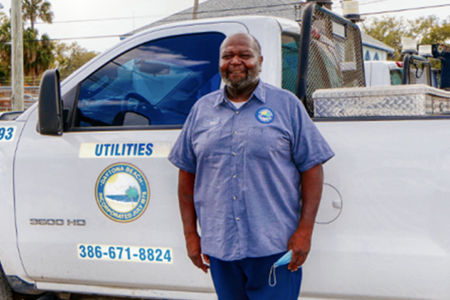 A 30-year veteran City of Daytona Beach employee and AFSCME Local 2066 member Ted Wolfe saved a life in early March when he came upon a 57-year-old man slumped over his steering wheel in the middle of a busy intersection.
As others panicked and shouted that the driver was dead, Wolfe calmly sprang into action, checking his pulse and confirming he was not breathing. Assisted by a local nurse, Tammy Leggett, who came upon the scene in the nick of time, the pair quickly removed the gentleman from behind the wheel and began performing CPR.
"I really didn't even have time to think about it," said Wolfe. "It was all instinct and the fact that I had just completed a CPR course just a week before."
The City of Daytona Beach offered CPR training to about 100 employees last month as part of its monthly safety training program. Wolfe, a sewer line technician who inspects water and sewage systems for leaks, thought the training was a good idea.
"It really paid off very quickly," he said. 
Wolfe immediately began chest compressions while Leggett, an ER nurse, began breathing air into the man's mouth.
"For the first few moments, I pumped and pumped but got nothing," said Mr. Wolfe, "but then, suddenly, the man's face twitched and the color started coming back. I yelled, 'Come on, dude, come on, dude,' and he started to come around."
An ambulance arrived a few minutes later and the resuscitated man was taken to a hospital and is expected to make a full recovery. 
For his life-saving efforts in an emergency, Mr. Wolfe was recognized by the American Heart Association as a HeartSaver Hero. AFSCME Florida also plans to honor Mr. Wolfe, an everyday front-line worker. AFSCME International named him a Never Quit Service Award winner.
"Ted Wolfe epitomizes what public service is all about," said AFSCME Florida President Vicki Hall. "His spirit, dedication, and selflessness illustrates how public service work isn't just a job, it's a calling."