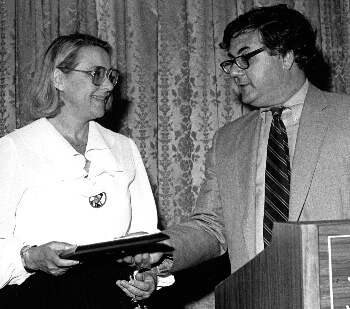 AFSCME mourns the loss of Mildred Wurf, a beloved member of our union family, a pioneering District Council 37 educator and the widow of former AFSCME president, Jerry Wurf. Mildred Wurf died on Dec. 29 at the age of 95.
Born Mildred Kiefer on Sept. 1, 1926, in San Francisco, Wurf earned her B.A. from the University of California in 1947. After pursuing graduate studies at Columbia University, she joined the staff of DC 37 in New York City. Wurf played many roles there, serving as office manager, researcher, writer, organizer and its first education director.
In 1960, she married Jerry Wurf, DC 37's executive director, who would go on to be elected president of AFSCME in 1964. During his 17-year tenure as president of AFSCME International, our union's membership grew from about 235,000 to more than a million.
In remarks at AFSCME's 2018 International Convention in Boston, Mildred Wurf reflected on her early days with our union.
"I went to work with AFSCME District Council 37 in the early 1950s. I was the third employee," recalled Wurf. As AFSCME worked to solidify its foothold in New York, Wurf recalled those days as "exciting and tumultuous times."
Wurf added that during her six years at DC 37, she developed the first educational programs and pioneered a systematic way to train shop stewards for whom grievance procedures were still novelties.
"This was all very new in public employment," said Wurf of innovations at DC 37 during that time. "Jerry was organizing or creating the first collective bargaining program and dues checkoff in the public sector. That was a major development. I think many councils and locals were able to take advantage of that pattern and gain the same rights."