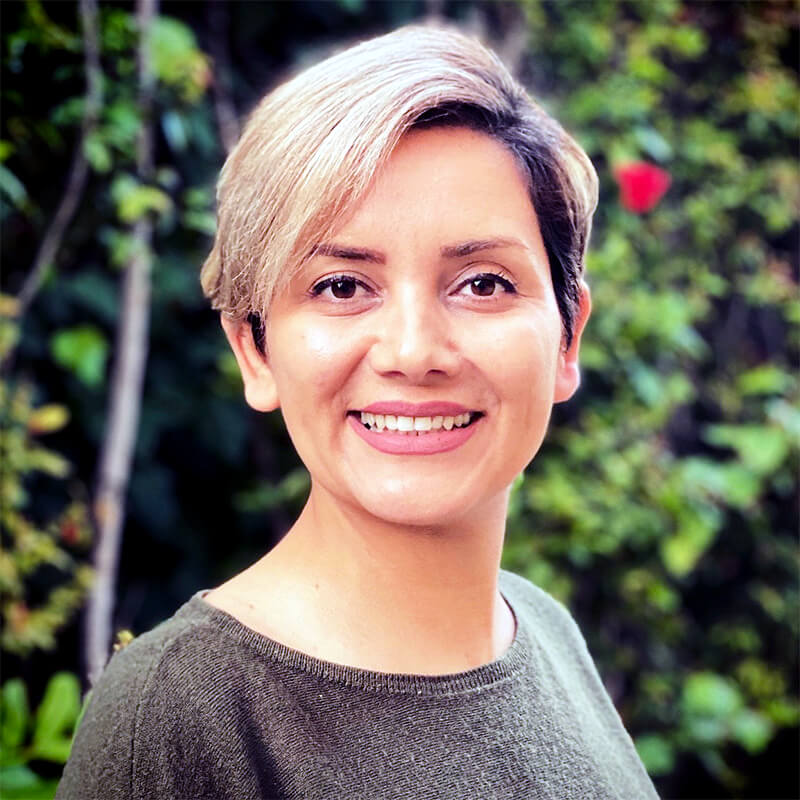 There's a certain magic that happens during one of Toktam Gholami's story time sessions at the Westwood branch of the Los Angeles Public Library.
Keeping 60 or so infants, children, parents and caregivers engaged, much less entertained, is no easy feat. But Gholami, a children's librarian and a winner of the AFSCME Never Quit Service Award who has been working at the Westwood Branch for a little over a year, is something of a magician herself. Week after week, this AFSCME Local 2626 member makes the story time sessions she runs both educational and powerful experiences.
However, story time is only one aspect of what Gholami does.
The Los Angeles Public Library has a robust STEAM (science, technology, engineering and math) program. As part of this program, Gholami might facilitate classes using LEGOs or teach kids biology using live insects. Gholami also works at the reference desk and coordinates and runs school visits, sharing with L.A. students the power of the library's many resources.
"I have one of the biggest collections on the West Side," says Gholami. "That comes with a big budget, and I'm always focused on adding new, high quality materials to my collection."
What happens, though, to these enriching, in-person library experiences when they disappear overnight, as they did in March, when much of the country shuttered due to the pandemic?
The library goes online
For Gholami, the pandemic meant she and her fellow librarians had to mix things up – fast.
"I'm a public servant, and I love helping people," says Gholami. "I feel compelled to do this. When we closed, I started looking for ways to help our community and provide library services."
She and her colleagues were determined to bring their story times online. That meant Gholami had to scramble to find out which titles they could get permission to share over the World Wide Web. Then they had to coordinate streaming readings that would be beamed out all over the world through LAPL's YouTube, Instagram and Facebook pages.
It was an unusual but rewarding experience for Gholami.
"We can see people watching from the other side of the world."
Suddenly, Gholami had new audiences in Europe, the Middle East and beyond.
While caring for her own first-grader from home, Gholami helped transform the library's children's programming through the spring, summer and fall. That included October's recent "Hallo-week" events.
Even if L.A.'s kids could not trick or treat, Gholami wanted to preserve the day's festivities. 
Helping her city through a disaster
For Gholami, the pandemic has only reinforced her sense of community. When Mayor Eric Garcetti activated the city's disaster service work assignments in March, it fell on Gholami and other public service workers to adapt to new disaster-related roles.
The learning curve has been steep, yet Gholami says, "As a public servant, I took the oath to serve as a disaster service worker in times of crisis. I had to quickly gain new skills and contextualize my existing skills to adapt to the situation."
Her assignments have varied. Using her Farsi language skills (Gholami was born in Iran), she has translated the mayor's weekly messages to ensure the Persian community receives the latest coronavirus news. She also worked on L.A's senior meals hotline, helping to sign up volunteers and distribute food among seniors who couldn't leave their homes.
The most emotionally taxing role has been working as a contact tracer. Given the recent surge in COVID-19 cases, the role has Gholami working non-stop, while still performing many of her library responsibilities. It's exhausting yet rewarding work.
As a contact tracer, Gholami saves the lives of Angelinos by notifying them of the need to quarantine and educating them about the dangers of COVID-19. She sees a clear parallel between her work now and her work as a librarian.
"To me, it seems to be all about saving lives, whether by educating and skill-building at the library, or by conveying the county health orders. There was a joy [working] at the reference desk," says Gholami of her responsibilities in pre-COVID-19 times. "Now, I'm getting that doing contact tracing. It makes my day when people are doing OK."
Former strangers in L.A. are now part of her extended community.
"I'm grateful for what I'm doing for the community," Gholami says. "It's made me feel like I'm doing my part. I know that when I get back to the library, I will be a different person. I'm taking away a rich experience while bringing my skills and expertise to the table."