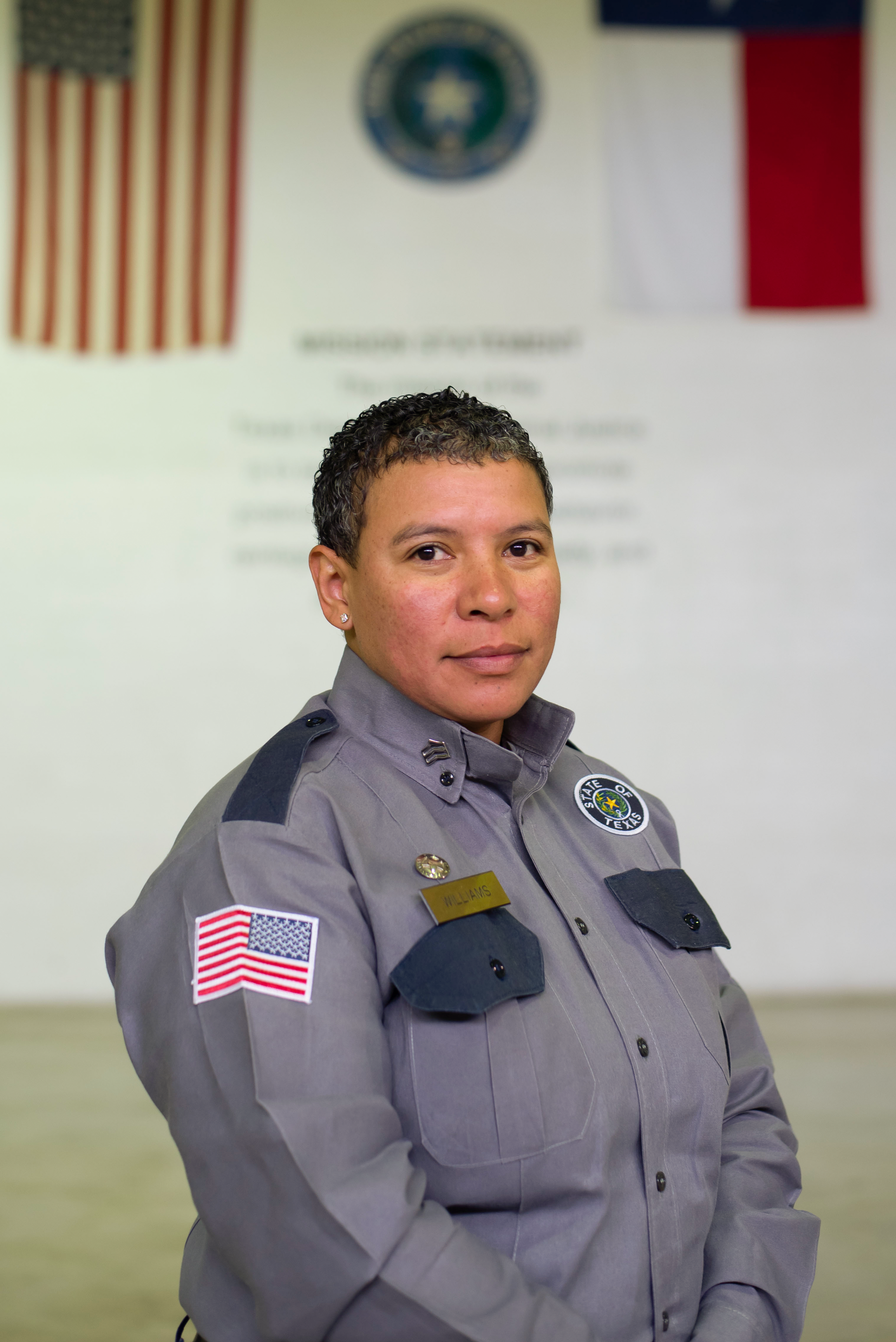 Sometimes our greatest teacher — the person who believes in you more than you believe in yourself and who changes your life for the better — comes not in childhood, but in adulthood.
For Julie Mustin, a rookie correctional officer at Gatesville Prison in Texas, that person was her trainer, Sgt. Christina Williams, a member of AFSCME Texas Corrections, Local 3920.
Mustin had been a truck driver for 15 years and was looking for a career change when she joined the Texas Department of Criminal Justice. She met Williams last May, during the six-week academy, a boot camp that all new corrections officers must attend to learn about the different aspects of working in a prison.
Mustin says, "This lady changed my life."
According to Mustin, Williams embodies both the tough, no-nonsense drill instructor, but also the supportive, motivating coach, eager to answer questions and make everything a teachable moment.
"She always encourages people to try their best do their best, and she also tries to get them to do just a little bit more than what they did yesterday," says Mustin. "She showed me that I could be a better person than yesterday. She trains firmly, fairly and consistently every day. She's amazing."
Mustin tells a story of having to run the obstacle course in order to graduate from the academy. She wasn't feeling good about herself, knowing she was slower than some of the other trainees.
"[Sergeant Williams] just looked at me. The look told me 'I believe in you. You will do this. You will prove it to yourself.'"
Mustin recalls that while running, Williams looked her squarely in the eye. The look said, "Don't you give up on me. You're competing against yourself and I believe in you."
"She changed my life because she made me better than what I was when I walked in. She will take somebody off the streets and she will counsel them and go out of her way to help them. But you have to meet her half way. 'You show me you're investing in yourself, and I will meet you there,'" Mustin says.
Though Mustin jokes that she and her fellow trainees all thought Williams had, in fact, been a drill instructor, they're only partly right. Williams did serve in the military, but says her skills as a teacher were really sharpened in another classroom — an after-school program for kids.
There, she developed lesson plans that would meet the needs of a variety of kids, with different backgrounds and learning abilities. In the 20 months she's been working at the Gatesville academy (she's been with the Texas Department of Criminal Justice for a little over four years), she's had to use a similar set of skills to teach cadets who come from all walks of life.
"Retention starts with good leadership," Williams says. "I tell [the cadets] that I will correct you on your actions to make sure you don't make that same mistake. In this agency, you can't become complacent. I tell them you should be learning something new every day. I let them know, too, me being a supervisor — I'm still not afraid to ask questions. The chevrons I wear on my collar do not make me."
While Williams may come off as intimidating at first, he philosophy toward training future corrections officers is really grounded in collaboration and questioning.
"There was a time Julie wanted to give up," Williams recalls. "But I said, 'Go look at yourself in the mirror. See what you want to be.' I will do the one-on-one training. I'm hands on. That's what I'm here for. Don't be afraid to ask your supervisors for help."
Williams enjoys meeting people "from a thousand different backgrounds," and has learned that sometimes, "you have to agree to disagree."
The same goes for inmate management.
"You don't go in and fit the environment. Make the environment fit you. You have to hold the inmates accountable: use verbal de-escalation, calm the situation. Whether you're turning them out for chow, getting the routine down — you do it all in a firm, fair, and consistent manner. You have to have a nonjudgmental attitude."
Williams also possesses a nonjudgmental attitude when it comes to the stigma surrounding PTSD. Though she acknowledges that corrections officers must wear a "suit of armor" when they're on the job, she advocates for people to find ways to address the post-traumatic stress disorder that often comes with the job.
"You have to learn coping skills," Williams says. "You work long hours, so you have to have a decompressing mechanism. The good is going to outweigh the bad, and you will have bad days. We have inmates who commit self-harm, (have) suicidal intentions. Some people don't know how to cope with that. It might trigger something. You have to learn to cope with that. There's nothing wrong with going to get help."
While Williams may eventually return to "the unit," she gets a great deal of satisfaction from her role now.
"I enjoy what I do," she says. "I enjoy when you can catch a person's attention; you can get them to thrive and have a passion. That's my calling."