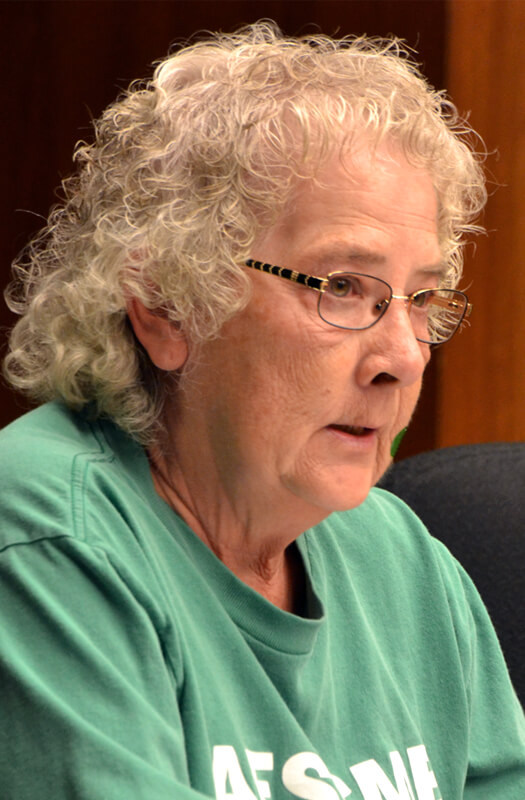 Working as a nurse at Anoka-Metro Regional Treatment Center in Minnesota is not for everyone.
People who suffer from mental illness generally are not violent. But unlike other mental health treatment centers, Anoka takes in violent offenders from the jails who show signs of mental disturbance. And while corrections officers may be trained and equipped to deal with violent and unruly inmates, the nurses at Anoka are not.
This means that nurses like Jackie Spanjers are constantly under threat. Spanjers herself was shoved into a corner by a patient and suffered a ruptured bicep and torn rotator cuff as a result. At a different facility, an AFSCME member named Kaija McMillen was attacked by a patient who repeatedly bashed her head against a brick wall.
If it's hard being a nurse at Anoka, it's even harder to speak out. Even as violent patients continued to harm workers, supervisors tried to keep the problem secret.
That's why Spanjers, who is president of Local 1307 (Council 5), decided to do something about it. With Minnesota Gov. Mark Dayton standing behind her, she spoke out about abuses inside Anoka. And she urged lawmakers to support the governor's $177 million proposal to invest in safe staffing and improve mental health treatment across the state.
"We're walking wounded, and we feel like punching bags," Spanjers said. "Getting pounded in the face or head leaves you with serious injuries – some that can end your career. Concussions, headaches, memory loss, open wounds, broken bones and eye injuries are common."
Angelle Kanneh, a mentor health program assistant, was one month pregnant when a patient punched her in the face five times and left her with a bruised eye. After she recovered, she went back to Anoka to work a different job. She feels lucky her baby is OK and her injuries weren't worse.
"Jackie helped me," she said. "She's helped all of us. She's the kind of person who is not afraid to talk back to management, and to fight for us and get us what we need. We will miss her because it'll be harder at Anoka without her. At times it feels like the patients are in control of the place."
Spanjers, who celebrates 21 years of service on May 16, is retiring this month. After her injury, she was reassigned to the maintenance department, where she now works as a secretary. Despite the risks involved, she misses working directly with patients. It's why she became a nurse, and it's what gave meaning to her career.
"I miss working with clients because it can be very rewarding," she said. "When a client comes in so sick and you're able to help them, and sometime later they're able to go back into the community … that's the rewarding part."
But Spanjers is ready to move on.
"Working with clients can also be very dangerous," she said. "And I think I'm at a point in my life when I can't do that anymore."
What will she do now?
"Something totally different," she said.
But the one thing that won't change is her activism. Spanjers says she will continue to fight in the labor movement, and she will join AFSCME Retirees.