At Belleview Elementary, Van DeVries Is a Hero to Many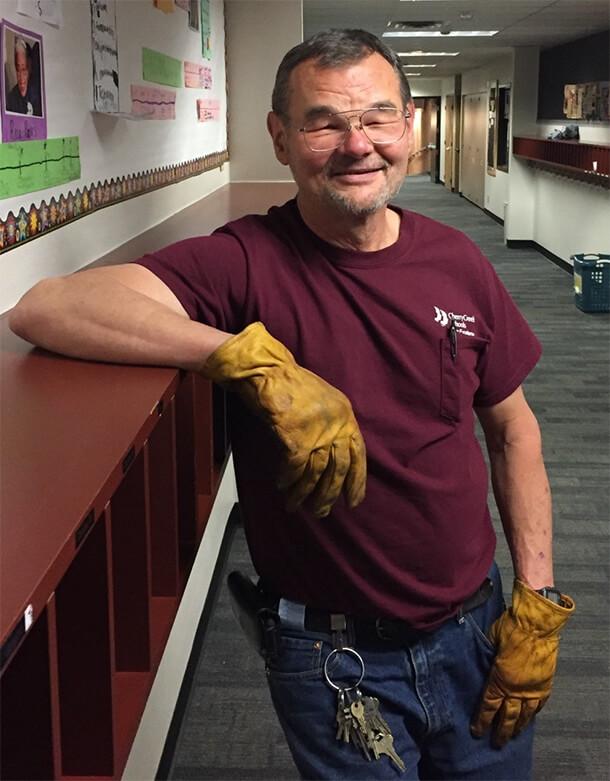 Editor's note: In the time since the publication of this story, Brother Van DeVries has retired following a lifetime of service.
Van DeVries' job title at Belleview Elementary School in Greenwood Village, Colorado, is "building engineer." His job description is to maintain the school building, make sure it's safe and clean for students and faculty and develop good relationships with the community and staff.
But that doesn't capture what DeVries actually does, much less what he means to the teachers, the staff, students and parents. Over the past 22 years, DeVries has done his job as if it were his life's calling, going above and beyond his job description to serve others. And the Belleview community has taken notice.
A member of AFSCME Local 1605 (Council 76), DeVries was nominated by no fewer than 13 members of the Belleview community for AFSCME's Never Quit Service Award, which honors the men and women in public service who demonstrate extraordinary dedication to their work.
Rachel Nelson, a second-grade teacher, recalled how DeVries repaired her bookcase within a day of being asked.
"I've never heard him tell someone, 'No, I can't do that,'" she says.
The award nominations are overflowing with praise for DeVries:
"He is the balance and balancing act at Belleview. The school runs smoothly each day due to Mr. DeVries' efforts."
"He takes care of us like family. Van arrives early, stays late, and comes in on weekends to make sure our building is safe and secure."
"I can always count on him for a good hug or joke whenever I walk by him in the hallways."
"Without him, our building wouldn't function and the teachers wouldn't be able to teach our kids."
Todd Daubert, a fifth-grade teacher at Belleview, calls DeVries a hero. DeVries, who studied geology in college and has a huge collection of rocks and crystals, has helped Mr. Daubert teach a lesson on rocks and minerals. He even brought in a machine he invented to show the students how metamorphic rocks are created.
"Van really cares about our school and our kids," Mr. Daubert says.
DeVries has become a role model for the students. He started a recycling program at the school and praised the students who showed true commitment to keeping their environment clean. At an award ceremony at the end of the school year, he recognized those kids and gave them his own version of an award: a gypsum crystal that looks like a rose and is known as a "desert rose."
Now that he's being recognized for his own service, DeVries says his 34-year career as a building engineer at Belleview and other schools inspires many feelings.
"I have grown a lot as a person and from being part of a bigger whole. I feel proud of the work I have done and the difference I have made with the buildings and more importantly the kids, staff, coworkers and community," he says. "The feelings of camaraderie and teamwork are satisfying. On our uniforms is an emblem that says, 'Dedicated to Excellence;' and I have learned to own that and be that in my daily work."
Do you know an AFSCME member who demonstrates extraordinary dedication to their work? Nominate them for a Never Quit Service Award.