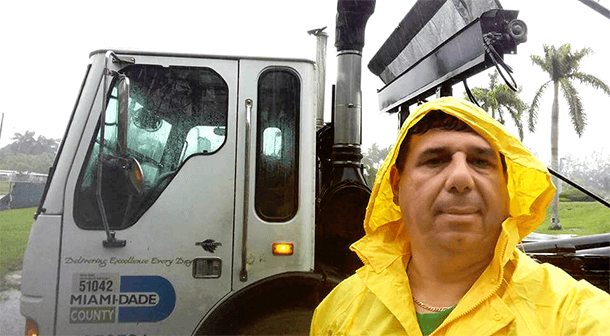 By midday, the middle of last week, Miami-Dade County residents began boarding up their windows, shoring up their homes, and buying supplies of water, flashlights and shelf-stable food. The county was preparing for the onslaught of Hurricane Matthew, a category 4 storm.
Hurricane Matthew had already ravaged the Caribbean — devastating Haiti and leaving hundreds dead. This was no storm to take lightly, with Florida officials warning residents to evacuate, and for those remaining — to prepare for the worst. But rather than hunker down in the safety of their homes to protect their own families, AFSCME members like David Diaz and his crew prepared to battle the storm and protect his community.
Armed in heavy rain gear, Local 1584 member Diaz and his co-workers — skilled trash collectors — spent all of Wednesday and Thursday inspecting roadways. They made sure that fallen trees and other large debris didn't harm local residents. The area received up to four inches of rain with winds averaging 120 miles per hour.
"We'd been on alert since early Sunday," said Diaz. "I started early in the week inspecting smaller debris drop-off sites. Then during the actual storm, I made sure any large debris that had fallen wasn't blocking areas or able to damage property or any of our residents." Hurricane Matthew was a strong storm that did not hit as hard as was expected. But that didn't stop Diaz and his fellow public service workers from being part of the preparedness, immediate response and recovery.
"There were many Miami-Dade AFSCME members out cleaning up and helping with the recovery," said Diaz. "Our storm preparedness process works so well because of all of us, and it's what keeps Miami-Dade County working!"