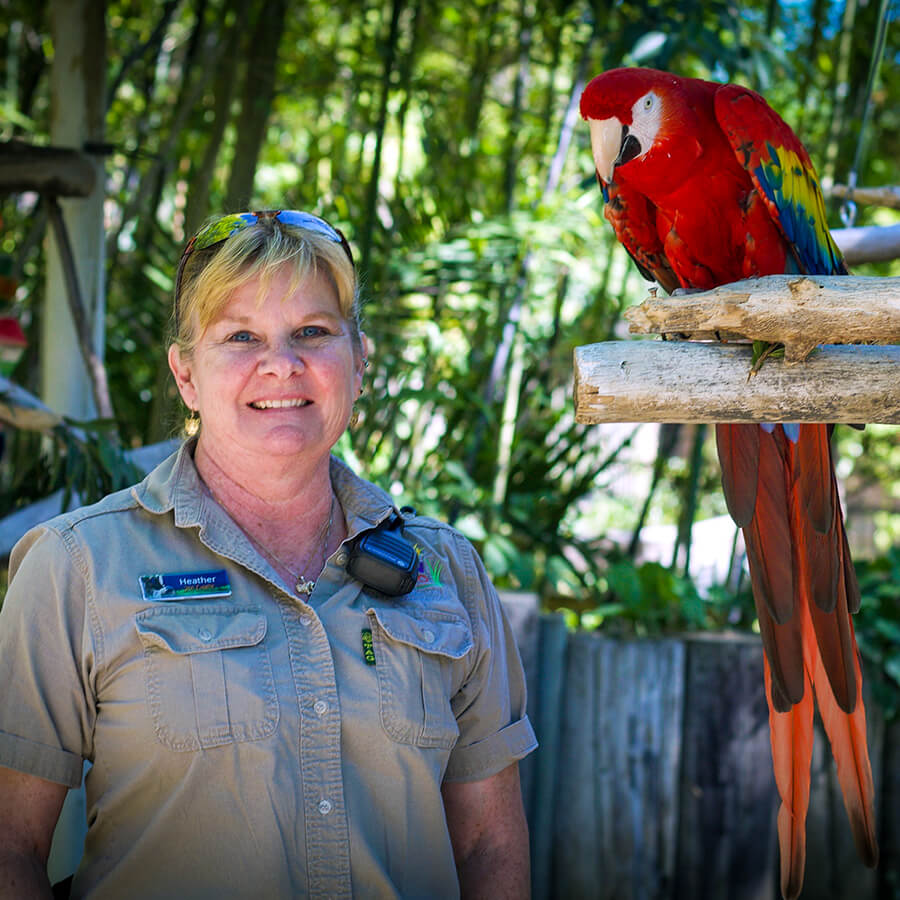 When Heather Vrzal first started working with animals 38 years ago, she recalls somebody warning her that the pay would be bad and the hours even worse. But, she says, it didn't matter.
She didn't care either that she had to drive an hour and back every day for a part-time job. She loved animals and knew that her love of animals would last a lifetime.
She was right.
Today, Vrzal is a curator at Happy Hollow Park & Zoo in San José, California, where she has worn just about every hat, sometimes all at once. In the process, she has channeled her love and passion for animals to support the conservation and sustainability efforts at the heart of all programs and activities at the zoo.
"Heather is extremely passionate about what she does," says Kelley Walsh, a former senior zookeeper at Happy Hollow. "She cares not only for the animals at the zoo, but for animals worldwide and the planet. She's very committed to doing her part to make this a better world and she's always been that way. I've never seen such dedication in a person to make sure everything keeps running and everything is right."
For her service to her community, Vrzal, a member of AFSCME Local 101 (Council 57), is a winner of our union's Never Quit Service Award, which recognizes public service workers who go above and beyond the call of duty to make their communities better.
Although the favorite part of her job has been working with animals – especially big cats – Vrzal says interacting with the public is a big component of what she does.
"Seeing the faces of kids when they come in for the first time brings a lot of satisfaction," she says. "I've met amazing people over the years."
She recalls an incident with a woman years ago who approached her to tell her she was against animals being kept in zoos.
"We got to talking about animals and what we do in conservation here at Happy Hollow, and by the time our conversation was over, I had completely won her over," Vrzal says. "It's the little moments that you have in your career that are really important and help enrich your life."
The zoo is home to more than 130 animals from more than 50 species. The zoo and the park sit on 16 acres of land and include an amusement park with rides and games for children. Owned and operated by the City of San José, Happy Hollow partners with a nonprofit foundation of the same name that accepts public donations.
Vrzal's teenage daughter is a volunteer at Happy Hollow, though she is not considering zoology as a career path.
"I'm not sure if that's a good or a bad thing," Vrzal says. "You have to do this kind of work because you love it, not because you get well paid for it. You have to be really dedicated to the animals. And it's dangerous. But for me, it's been worth every minute."
Nearly four decades after she began her career, Vrzal says what's motivated her all along is the same thing that got her started.
"I got into this because I love animals, and through that love of animals I've gone to Africa and I've learned photography and I've learned to dive and I've met people in my community," she says. "Everything to me was new and exciting and rich, so how could I just come in and do my basic job – how boring would that be?"
Now that she's nearing retirement, Vrzal, who is a Reiki practitioner, says she's trying to look forward.
"There's a chance I might offer Reiki for animals," she says. "They benefit from it just like people do."