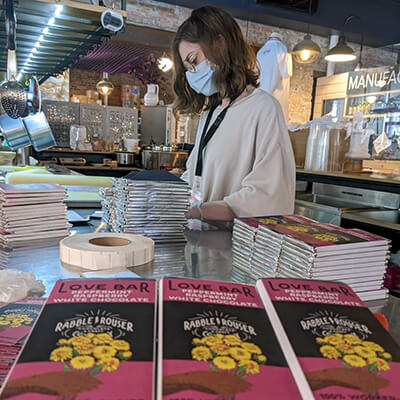 Rabble-Rouser Chocolate & Craft Company in Montpelier, Vermont, describes their mission as "tasteful social change."
Here, "tasteful" refers not only to the delectable handmade chocolate confections, granola, coffee creations and other treats they produce, but to a philosophy that puts their progressive values on equal footing with making a delicious product.
A small cooperative of about 30 people, Rabble-Rouser's team is divided into two kinds of employees: "worker-owners" and "non-owners."
A new employee, who is hired as much for their enthusiasm and willingness to learn the business as for any particular set of skills, starts their career as a non-owner. They'll enter a training program for about two years, after which they can choose to become a "rising owner," putting them on the path to have a stake in the organization.
However, regardless of whether you're a newbie or a long-timer, whether you're tempering chocolate or boxing orders for delivery, Rabble-Rouser believes: "Through our shared hard work we hope to create a new culture of business, leisure, diversity, receptivity and humanity."
Rabble-Rouser's products mirror their mission – and their moniker: there's the liberally sea-salted 70% dark chocolate Bernie Bar, the lemon-ginger and toasted-pecan Pride Bar, the peppermint-raspberry-white chocolate Love Bar and one anatomically inspired chocolate treat, a portion of whose proceeds advance reproductive justice.
Why would such a seemingly inclusive, hospitable (not to mention mouthwatering) workplace need a union? Why did the Rabble-Rouser's workers – both worker-owners and non-owners –recently decide to affiliate with AFSCME Local 1369 (Council 93)?