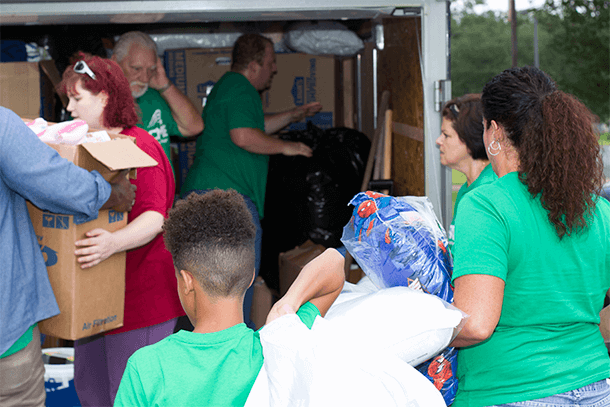 "Coups de main" is a Cajun phrase that means lending a helping hand to community members in their time of need. AFSCME Volunteer Member Organizers (VMOs) recently had an opportunity to show their "coups de main," by helping lift Louisianans in need in flood-ravaged Baton Rouge.
Ina LaBorde, AFSCME Council 17 Council representative and her daughter, Lyn Ray, Catholic Student Organization director at Louisiana State University at Alexandria (LSUA) wanted to find a way to make a concrete and meaningful impact for their fellow Louisianans who are now piecing together their lives. More than 40,000 people across 20 parishes in the Baton Rouge area were affected, days after heavy rainfall led to the historic flooding.
Ray believed she could contribute to relief efforts in Baton Rouge by delivering items that people depend on from day to day: goods like toiletries, cleaning supplies and hand sanitizer, and comfort items like new bedding, clean socks — even some sweet tea.
But Ray knew should couldn't do it alone. She would need a dedicated crew of people to power her vision. That's when LaBorde sprang to action and tapped a source that she knew could depend on: VMOs. And they eagerly lent a hand.
Approximately 40 VMOs, members and other volunteers assembled at the LSUA Catholic Student Center to unload trucks and sort donated items to deliver to the St. Vincent de Paul shelter in Denham Springs in Livingstone Parish, an area hard-hit by the floods.
Cleaning items and supplies will be delivered to the Greenwell Springs neighborhood in East Baton Rouge Parish to help clean up flooded homes that still maintained their structural integrity. Residents there still face a big clean-up effort, including disposing destroyed furniture and other items.
"I was very excited to be involved with something so important to the members and the community," said Sheila Conroy, an AFSCME VMO from New York.
Sheryl Lilya, an AFSCME VMO from Minnesota, was also excited about her involvement in the action.
"Seeing the amount of giving and being able to help in any way was wonderful," Lilya said.
Ray expressed deep appreciation for the hard work of the VMOs throughout the afternoon to help Louisianans emerge stronger after the flood's devastation.
"I can't thank you enough," Ray said. "We couldn't handle this ourselves."
To donate to victims of the Louisiana flooding, you can contribute to the AFSCME Fallen Heroes Fund.