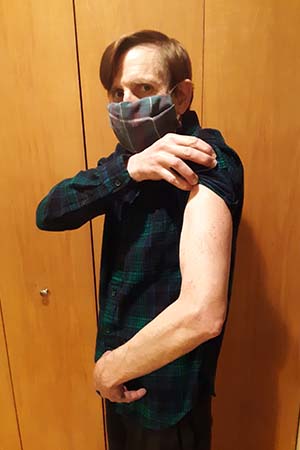 Sometimes you're lucky to have a co-worker who not only makes your job more enjoyable, but who changes how you think about your work. For Janette Laster, a psychiatric technician at Sutter-Yuba Behavioral Health inpatient psychiatric facility, that person is her longtime colleague, Scott Jones, a winner of the AFSCME Never Quit Service Award.
"He really made me into who I am today," said Laster, who has worked at the facility for a decade. During her early training, she says, "I remember watching his interactions with patients as if they were family members. It was the first time I had seen a nurse with that kind of empathy. It was a beautiful thing to see. I said, 'That's the kind of nurse I want to be.'"
The inpatient unit where Jones, a member of AFSCME Local 905 (Council 57), has worked for the past 20 years admits patients whose psychiatric symptoms are severe. These patients may be confused, unable to care for themselves and unable to get the resources they need.
"Our main clientele is our local mentally ill homeless population," says Laster. "We have a lot of violent people, sex offenders and substance abuse. It's a pretty hard field."
The reason that Laster nominated Jones for a Never Quit award is his unfailing ability to treat all his clients the same – always with maximum empathy.
"It doesn't matter if you're homeless or live in a mansion," says Laster. "He's an amazing teacher for all of us."
Jones, a registered nurse, says quite simply: "I enjoy working with the clientele."
His philosophy is based on listening.
"People have a tendency to want to give advice," says Jones. "But that's not what [the patients] really need. They need to be listened to. They don't just want a direction like 'calm down.' That doesn't give them enough direction, enough empathy."
Being heard is crucial for patients. Jones adds that before he responds, he tries to remember to give himself empathy, recognizing his own needs, which aids in guessing what needs his patients have, allowing him to then convey empathy to them.
Jones says he and co-workers like Laster work with their clients face-to-face, all day – they can't hide in an office. It can be a challenge to stay centered but staying centered is crucial for modeling behavior, which is more enriching to the patient.
Though Jones is 66 years old and has spent the better part of his career at the Sutter-Yuba facility, he says watching patients get on stronger footing still provides great satisfaction.
"It's great to see some of the individuals who have really transformed their lives or stabilized enough to be more independent," he says.
Another factor in Jones' job satisfaction? His co-workers. 
"I look forward to them every week. We are all working on improving ourselves so it will be a more fulfilling experience for the staff and the individuals in our care," Jones says.
There's little question that for both the patients and his colleagues, Jones' enduring presence is a blessing for all.