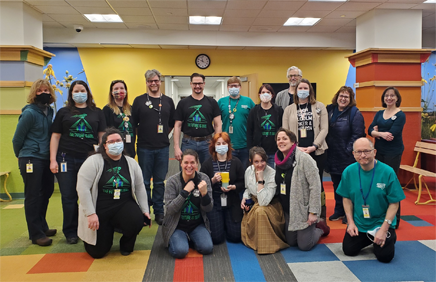 More than a year after winning their union election by a landslide, workers at Minnesota Historical Society (MNHS) are reaping the benefits of their first contract. The three-year contract, which was approved by a 179-3 vote and took effect on May 1 of this year, will last through June 30, 2026. 
Minnesota Historical Society Workers Union Local 3173 (AFSCME Council 5) announced the tentative agreement on their Instagram account, followed by a summary of the substantial gains workers had won through bargaining. Contract highlights include securing six weeks of paid parental leave for all employees, including seasonal workers, when previously there was none.  
Additionally, workers successfully raised the minimum wage to $18 an hour and will now enjoy annual 3% wage increases across the board and seniority step increases of 2.5% every two years of service up to 14 years. To top off the economic victories, employees had an initial contract ratification adjustment based on years of seniority, which meant sizeable boosts for the majority of the workforce. 
Workers celebrated these hard-earned economic improvements, which came after an arduous back and forth with management, who were initially reluctant to agree to any annual cost of living adjustments.
Other noteworthy wins include a switch to biweekly pay, vacation and sick time accrual, and a new process that gives new hires 20 hours of vacation time in their bank. The new contract also establishes a strong grievance procedure and guarantees that MNHS workers will continue enjoying the excellent health and retirement benefits they had prior to unionizing. 
Workers celebrated their new contract and saw it as an opening to improve the livelihoods of all staff. 
 "I've worked at MNHS for 26 years and this is the most significant pay increase I have ever seen," said John Fulton, a member of the bargaining team who works as a grants specialist. "I really do feel like unionizing and working with AFSCME brought a lot of us together to break down the silos so this could happen."
Kyle Imdieke, a program associate and chief steward of Local 3173, said he especially appreciated the contract's immediate establishment of paid parental leave, which outpaced the state of Minnesota's plans to provide paid parental leave over the course of three years.  
"During the height of our organizing campaign in April of last year, my partner and I welcomed our first baby. For me, having paid parental leave and guaranteed pay bumps is hugely important to making us secure as a family," said Imdieke. "This contract means general stability and reliability in life. Regular pay structures mean future security."  
Fulton and Imdieke praised their co-workers for their hard work leading up to the contract ratification. They say the historic milestone is a direct result of consistent communication between members, actions such as picketing outside MNHS's annual membership meeting and at the Minnesota State Fair, and widespread support from union supporters and community allies.
Imdieke said workers were excited to learn that workers at the nearby Science Museum of Minnesota also
voted to unionize through Council 5 early this year. According to Imdieke, organizing efforts at Minnesota Historical Society were in part inspired by Walker Art Center's union victory, which was also through Council 5.  
"It gives us a big boost to know that we also helped inspire other cultural workers to successfully organize, and it is great to see them succeed alongside us," said Imdieke.