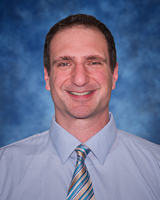 You won't see AFSCME members like Joe Acampora at the scene of a car accident. You won't find him treating sick patients in a hospital. And you won't see him driving by you in the cab of a truck, clearing snow-choked roads for your morning commute.
But the vital work that this CSEA Local 860 member did for 30 years touched the lives of nearly every resident of the Mount Vernon, New York, community he serves. Acampora just retired as an IT professional, and he led Mount Vernon out of the technological dark ages of the 1980s to today's high-speed virtual world.
The one-stop online public services that many Mount Vernon residents now have at their fingertips, allowing them to pay taxes or their utility bill via the internet, are because of Acampora's know-how.
"He's been a consummate professional," says Acampora's co-worker, Hans Marshalleck, who nominated Acampora for AFSCME's Never Quit Service Award. "When you look at the value of a union employee, he's a shining example. He's been consistent for so many years at a high level of excellence. There's no gold watch for him, no politician lauding him. He just comes to work and does an excellent job and goes home to his family."
Acampora's career paralleled revolutions in networking, the internet and personal computing. According the Marshalleck, "Through Joe's guidance, we lifted the IT department into the modern age. We went from VT320 green screen terminals to using HP Windows 10 machines today."
Acampora paints a vivid picture of the early technology he faced out of college as a programmer/analyst when he came to work for the city of Mount Vernon, located in Westchester County, New York.
"There was one computer in the whole building. It looked like a little mini-fridge," recalls Acampora. "There were 50 terminals with green screens. The disk drives looked like top load washing machines. The actual discs were big platters that you lowered into the [drives'] cavities."
From those primitive beginnings, Acampora began to shape Mount Vernon's technology footprint.
"We developed some really good systems," said Acampora. "Payroll was a system that I created from scratch. Parking ticket collection – I made a lot of enhancement to that."
Acampora developed software for tax collection and led Mount Vernon to become one of the earliest jurisdictions in New York to automate vehicle registration data requests and delivery using the internet to communicate with the state's Department of Motor Vehicles.
Having someone like Acampora in-house meant the city didn't have to outsource and license expensive software from vendors. Thanks to his know-how, he saved the city millions of dollars throughout his career by Marshalleck's estimate.
Though Marshalleck credits Acampora with paving the way for the city's IT evolution, Acampora says it was a group effort.
"It was always teamwork with the assistance of chief accountants and the Finance Department," says Acampora. "They would provide requirements for accounting, and I would provide the technical implementation of that."
The 2000s brought a further explosion in technology, as Acampora became a manager of information systems. Despite all the changes, as well as the shifts and pressures that come with navigating different city administrations, Acampora stayed the course, according to Marshalleck.
"He's remained cool throughout," said Marshalleck.
Now, with a user base of 230 terminals that touches every city department, the core services that Acampora engineered make up the backbone of city services.
And, luckily, because Acampora and his team had already set up remote work capabilities for events like snowstorms, they were well-prepared for the transition to remote work during the COVID-19 pandemic.
While Acampora may have technically retired just a few weeks ago, he says he may return to his old department to help out as needed. There's no doubt that the "2.0" version of Joe Acampora will bring the same know-how, but hopefully with the newfound serenity that comes with retirement.