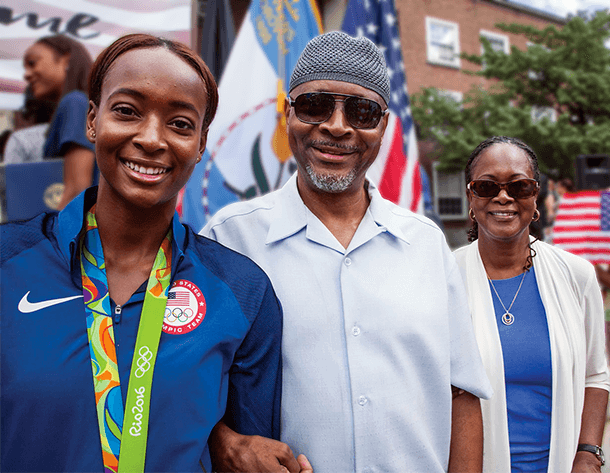 During the 2016 Olympic Games in Rio de Janeiro, Dalilah Muhammad, a long-time New York resident, became the first American woman to win the 400-meter hurdles in a dramatic race, held during a driving rainstorm at Olympic Stadium. Dalilah led from the first hurdle and finished for the gold medal at 53.1 seconds.

Her victory came on the heels of a series of championship victories, several after coming back from an injury last year. Her determination is an inspiration for anyone with a wish and a goal in mind.

Upon her return home, Dalilah and three other Olympians were honored in a parade in Southeast Queens. In her acceptance speech for the award, Dalilah told the crowd, "After returning home, so many kids have come up to me, saying that they want to be like me. But my message is to strive to be 10 times better than me. That is how I won the gold medal. Don't have small dreams, set bigger goals to try to achieve."

But beyond the story of Dalilah Muhammad's rise to Olympic glory, there is a family as remarkable as she is — her own.

Dalilah's parents are committed public workers and members of DC 37, both having spent decades working for New York City in their respective roles, and are pivotal to the communities they serve.

Dalilah's mother, SSEU Local 371 member Nadriah Muhammad, has worked for 16 years at the Administration for Children's Services as a child protective specialist.

"My focus as a child protective specialist is following up and checking on families that have been through the system; I monitor to make sure the families are following the court mandates and that everything is going well."

As for the challenges she faces in her work, she explained, "While it is always difficult when working with families with children who sometimes do not always make the best decisions, for the most part the situations have been workable."

Building a Strong Spiritual Foundation

Dalilah's father, Imam Askia Muhammad, is an administrative chaplain for Islamic Affairs for the Department of Corrections and a member of Local 299. A 26-year veteran of the department, he spoke of the importance of his vital prison work.

"My work involves supporting and monitoring all the Islamic programs at all the jails and Borough Houses in the Department of Corrections. I also work with adolescents and adults," he said. "We generally counsel, we teach, and instruct on religious matters with the inmates and that has had a very strong impact on the family."

Imam Muhammad explained the role of their Muslim faith in the upbringing of his and Nadriah's family. " The children have been basically raised in the mosque, and have a very strong spiritual foundation," he said. "We oriented our children and family — and the community — into really understanding Islam and how our faith works in our daily lives."

The family's firm commitment to public service continues. Another daughter, Jamilah, also serves in the Department of Corrections and her brother, Hassan, is a sergeant in the United States Army.