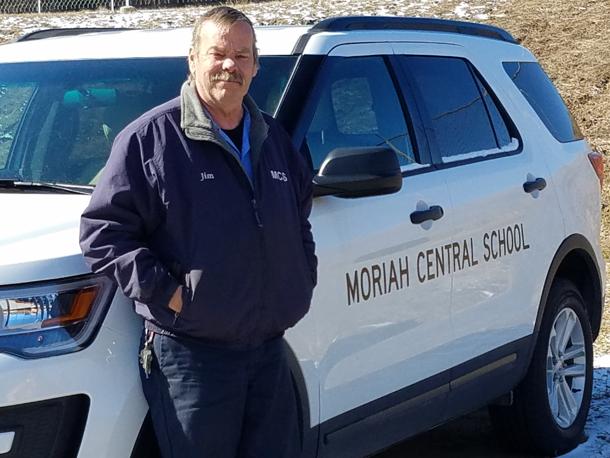 Like clockwork, for nearly 17 years, James Boisvert (bo-vair) has driven a bus for the Moriah Central School District in Port Henry, New York.
Boisvert, president of Local 6805 in Civil Service Employees Association (CSEA)/ AFSCME Local 1000, gets up each morning, three days a week, to drive about 25 students to school and back. It's not a tough drive – during those three days.
But the other two days of the week, well, that's entirely different.
For the past 10 years, off and on, Boisvert has driven a hearing-impaired student in a van to the New York State School for the Deaf in Rome, N.Y., more than 140 miles away. It's been different students over the years, but for the last two, it's been just one young man. Boisvert drives him to school each Monday and returns him home each Friday.
The highway to Rome ends a few miles out of town.
"Then it's all weaving in and out of small towns, up and over small mountains," he said. Driving is "not a big deal."
Except when it is.
The peaceful, six-hour round trip can turn into an arduous trek when it snows. "There's some places the sign says 'Ice Next 12 Miles.' They don't salt the roads, they just plow," he said. "Some areas don't get the plow as quickly as others."
It has taken him as many as five hours, one way. It's Boisvert's call whether to drive during inclement weather. If it's not safe, he won't. Nobody else will, either.
"He's the only one that goes out there, in all kinds of weather," said Gary Wykes, who retired in 2002 as a bus driver/custodian for the school district. Wykes, a CSEA retiree, nominated his friend and former colleague for an AFSCME Never Quit Service Award. "I couldn't think of anybody else" as deserving, he said.
Driving to the School for the Deaf is "something I wouldn't do, especially in the winter time," Wykes added. "I know a lot of guys who wouldn't want to drive way out there. It seems monotonous to me, six hours."
Boisvert admits it's not always easy. "A lot of times, he'll sleep on the way out," he said of the hearing-impaired student. "By the time you go back, there's nobody to talk to. But it's all right. It's a job."
Actually, for Boisvert, it's more than a job. It's his job, and he takes it seriously.
"I treat him as one of my kids," says the father of three adult children, referring to the hearing-impaired student. "When they're on my bus, they're my kids."
Because of Boisvert, the hearing-impaired students who ride his van get the education they need. "That, to me, is a good thing," he said.
That's why Boisvert won an AFSCME Never Quit Service Award. He'll never quit providing the critical public services that students and parents at his school district depend on every day, rain or shine. AFSCME is proud of people like Boisvert because they embody what it means to be a public service employee.
Do you know an AFSCME member who demonstrates extraordinary dedication to their work? Nominate them for a Never Quit Service Award.