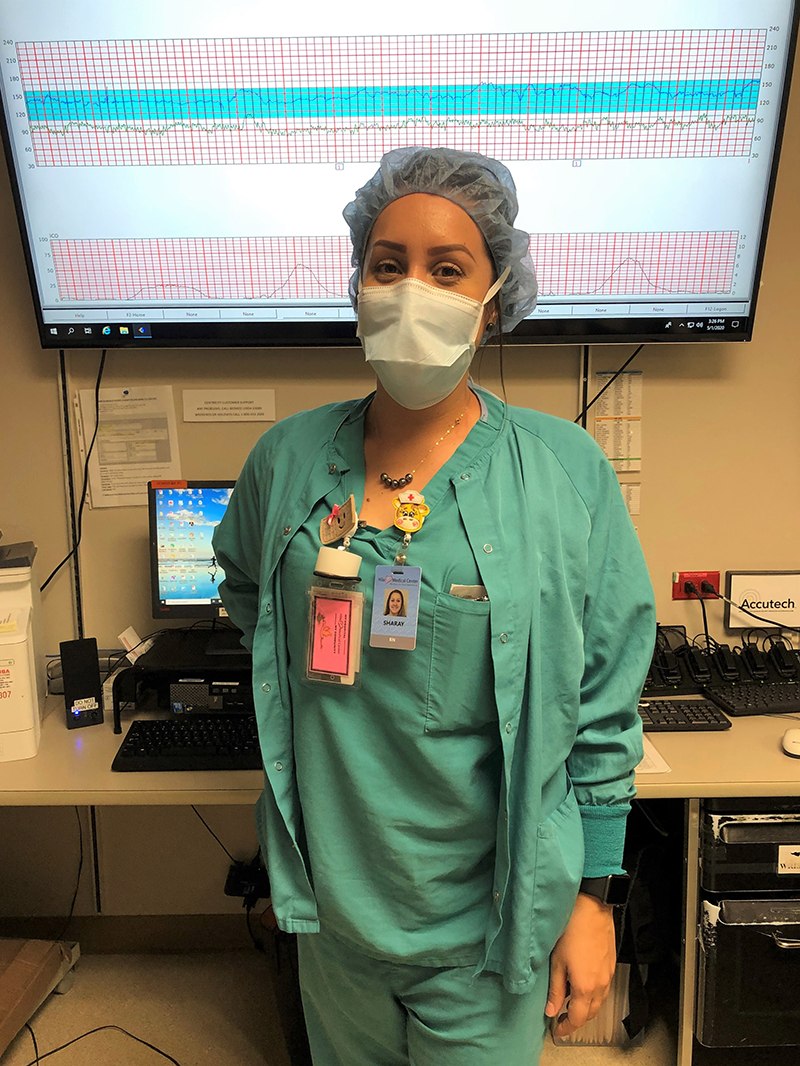 Editor's Note: National Nurses Week is May 6-12, 2020. We honor all nurses like Sharay Souza who are on the front lines during this critical time.
HONOLULU – Having a baby is one of life's most joyous moments. Giving birth amid the coronavirus pandemic, however, puts some constraints on this highly anticipated event and brings new challenges and fears for parents, babies and medical professionals.
"There's always some risk that comes with having a baby," said Sharay Souza, an obstetrics nurse at Hilo Medical Center, and a member of HGEA/AFSCME Local 152. "But with COVID-19, there are added concerns about safety, keeping the mother and baby healthy, and protecting everyone in the delivery room. We want to make sure labor and delivery is safe and we're able to provide the same level of care that we do all the time."
With strict Centers for Disease Control (CDC) guidelines and hospital policies limiting visitors, an OB nurse may be one of the few friendly faces that a woman giving birth may see during her stay.
Hilo Medical Center's OB Unit, which every year brings over 1,200 babies into the world, doesn't have the normal hustle and bustle of visitors.
"Families are not allowed to come and visit," said Souza. "We allow one visitor per laboring patient and that visitor must stay with the patient throughout her entire hospitalization, there's no switching out anymore. If a patient has other children, they are not allowed to visit."
The restrictions are just another thing that the already anxious expecting parents must deal with during this time.
The employees also have had to keep up with the many hospital policies and procedures that change daily such as implementing mask counts for each shift, changing cleaning solutions and cancelling or reducing hands-on education classes.
Health care workers like Souza are on the front lines, putting aside their own well-being and putting themselves at increased risk while they work. Even with extra precautions in place and personal protective equipment to protect patients, visitors and staff – N-95 masks, face shields, safety glasses and gloves for hospital employees, face masks for patients and visitors, regular cleaning and disinfecting of equipment, hand washing and sanitizing — the risks are still there every time they go to work.
"I absolutely worry about the risks of going to work," said Souza. "When working with those in labor, we do not practice 6 feet distancing from our patients. We are right next to them, coaching them through labor, encouraging them, changing positions, assisting with breastfeeding."