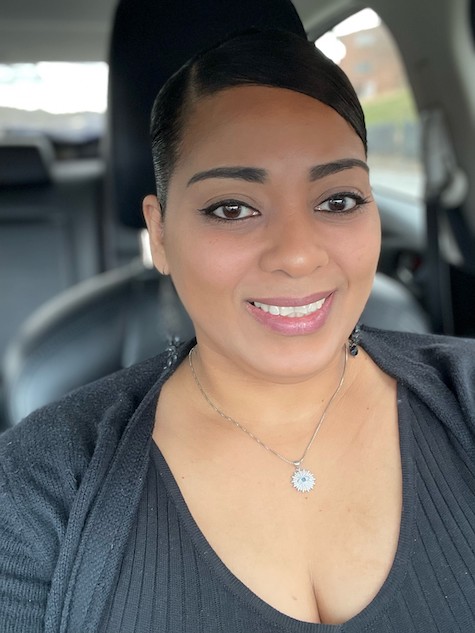 Jeniffer Morales Jimenez's job title may be "parent engagement assistant" but a more apt title might be "hero."
At least, that's the view taken by her co-workers and the families she serves at Rogers Heights Elementary School, in Prince George's County, Maryland.
Whether it's scrambling to find housing for a student's family that's about to be evicted, finding a fresh pair of shoes for a child whose sneakers are too tight, or even delivering food to hungry families who don't have a car, Morales is a one-stop-shop for not only resources, but for kindness.
According to Renee Lobos, a secretary at Rogers Heights who nominated Morales Jimenez for AFSCME's Never Quit Service Award, Morales Jimenez "cares profusely for the families and the communities," she serves.
"If I were to ever take a promotion, I would strive to be more like her," said Lobos. "To make sure that I build those connections with families."
Angie Garcia, the school nurse, shares Lobos' admiration. During the pandemic, pallets of food had been delivered to the school, but there was no way to get them to the families who needed them.
"[Jeniffer] asked me 'How many can you fit in your truck?' We put some in my truck and some in her car and delivered them to families in need. She helped organize it," Garcia said.
Another example: "One time, before the holidays, we had a family lose housing," recalls Garcia. "We were looking through every resource, combing through lists to get them housing."
For Morales Jimenez, a member of ACE-AFSCME Local 2250, who has been at Rogers Heights for six years, there is no on-off button. If the families she serves need her, she's there for them.
"If parents don't have stress, their kids have more of a chance at success," says Morales Jimenez. "If the kids come to school and are sad, or they say, 'My dad said we don't have money because he can't find a job,' your job is to step in and help and get them a job. A child shouldn't have to be stressed."
Morales Jimenez credits her own upbringing – she hails from Panama and moved to Florida as a teenager – as part of the motivation for her unceasing service to her community. For example, in helping newly settled refugee families or families facing deportation navigate bureaucratic hurdles, Morales Jimenez remembers her own experience.
"I was an immigrant myself," says Morales Jimenez. "I've been there. I know what it's like to need food, clothing; being bullied."
Morales Jimenez also says that her grandmother, who served her own community in Panama, is part of the reason she feels determined to extend herself so fully.
But it isn't always easy. Recently, Morales Jimenez underwent treatment for cancer and her absence left a big hole.
"[Jeniffer] would get chemo and still come to work," says Garcia, the school nurse. "But when she was out sick, you could see the difference when she wasn't here. It was a big gap. People would ask about her. She's like the face of the school."
Luckily, Morales Jimenez is winning her fight and says, "I feel like God provided me a with a second chance. I battled cancer and I won the battle."
Today, she's more motivated than ever to fight for the families she serves.
"I do believe that what doesn't kill you makes you stronger."