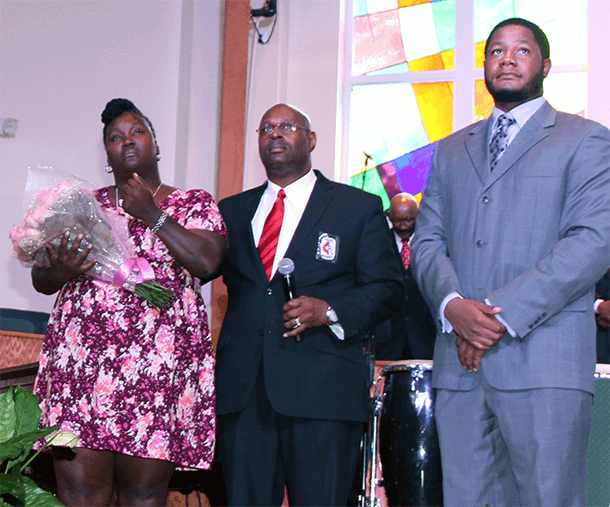 It was a clear, sunny September day when the unthinkable happened. But for Maryland school bus driver Renita Smith, the unthinkable was something she was well-prepared to handle.
Smith, a member of Local 2250 (ACE-AFSCME in Prince George's County), had just made her third stop of the afternoon, dropping students off at their homes. Then, she said, "My bus started making noise," and she prepared to pull over and notify her office. It appeared to be an inconvenience, but not a life-threatening emergency.
That's when she began to smell smoke. And the children did too.
"Miss bus driver! Miss bus driver! We smell smoke!" her students cried out, Smith said. "Miss bus driver, we see smoke!"
Smith immediately pulled over, seeing flames in her rearview mirror. Calling in to her supervisor wasn't going to help solve this crisis. "I put my radio down and got my babies up and in a straight line in the aisle. I had them hold hands."
As the fire intensified, Smith led all 20 children safely off the bus and to a neighbor's yard away from the smoke and fumes. Smith then did the incredible. She went back onto the bus — its windows melting around her — checking every aisle for a sleeping child, making sure all of them had gotten off.
"There wasn't a bus attendant with me that day to do the count," she explained of her heroism. "So I knew I had to go back on the bus to make sure I got all my babies." Because that's what her instincts and training told her to do.
That's the "never quit" spirit that AFSCME members bring to their jobs every day, whether they're bus drivers, first responders or other public service workers. And they do it without expectation of special recognition.
"I was just doing my job and what's expected of me," said Smith, herself a mother of two. "Serving my community means that you're not being selfish. You're thinking of how to do something for others and not expect anything in return. For God to give me a supernatural power to do what I did and save those babies, I pat myself on the back and say, 'Job well done.' I'm proud because my babies are all home."
And we're proud she's a member of our AFSCME family.