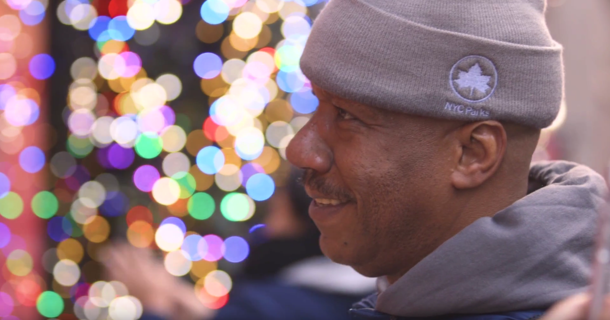 Bruce Cannon discovered his career when he was 7 years old when his parents took him to his first puppet show. Cannon, secretary of AFSCME Local 299 (DC 37), was enchanted by what he saw and that fascination with puppetry never left him. He applied to be a civil-service puppeteer and began his career at age 19.
Bruce has been entertaining and educating kids ever since, for 37 years, and is an employee of the New York City Department of Parks and Recreation.
"There's nothing like the experience of live theater. It allows children to enter a world of imagination and feel like they can actually participate and interact with the characters. We bring the Puppet Mobile to schools and neighborhood parks and present free performances and puppet-making workshops," Cannon said in an interview. "The payoff is when children's faces light up, eyes open and they're smiling and screaming, dancing and clapping."
You have to see it to believe how he delights and teaches children through his puppet wizardry. Watch this video to witness this master at work.
Puppetry is a unique way in which Cannon personifies AFSCME's "Never Quit" philosophy. It's one of many ways in which AFSCME members across the country serve their communities and their country.
As Cannon put it: "Marionette theater fits in well with the department's mission of uplifting our community through arts and culture, in order to avoid future social ills. That's why we make an effort to reach out to the poorest parts of the inner city and instill some vibrancy in these depressed areas."