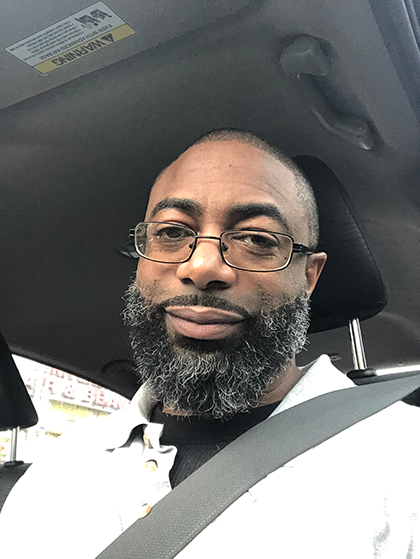 They call him "Mr. Motor Vehicles," and if he can't solve your problem, no one can. New York's Malcolm Coates, our latest Never Quit Service Award winner, is the go-to person at Midtown Manhattan's License Express for answers to the unanswerable.
"He is just phenomenal," says Audrey Ince, who works with Coates at the DMV, where he is one of her supervisors. "He should be the commissioner of the DMV. He knows the job in and out. If he can't help you, no one can. I've never worked with anybody as good as him."
Ince says that their DMV location, which focuses mostly in issuing licenses, permits and IDs, can be a high-stress place. But Coates, a member of CSEA Local 1000, brings a unique flair to working with colleagues and customers alike.
"You're dealing with customer service at the DMV. People can get very angry and there's high turnover with workers," says Ince, who points out that obtaining a license or a registration is a critical transaction for their customers. From air travel to financial transactions to obtaining any of a dozen kinds of permits, your state-issued ID is a crucial document.
"Mr. Coates boosts morale. We love him. We say he can't go for any other job, in any other state agency."
Ince says that Coates' broad range of knowledge is one thing, but the trait that sets him apart is his "grace."
"The willingness to help people and to do it with grace is rare. That's really what it is," says Ince. "We hate when he calls out or when he's on vacation. He makes work more enjoyable for us, and that helps us help the customer."
So, how does Coates manage to not only keep a smile on his face but marshal years of institutional knowledge to help his team and the people they serve?
"I had great supervisors when I started in White Plains. They trained me and made sure I understood what I was learning. And I did my own research, sometimes talking with representatives and [DMV staff] in Albany who helped me out," said Coates. "You take everything you learn, and it's easier for you to talk to a customer or work with a motor vehicle representative."
That may explain how he's able to answer any question that comes his way, but it doesn't explain his ever-calm temperament.
"I've been working in customer service pretty much ever since I graduated high school," says Coates, a Bronx native. "I'm used to dealing with people."
Also, Coates points out that being comfortable on stage, in front of crowds, gives him an advantage.
"I used to do amateur standup comedy at a lot of local clubs in Manhattan in the city back in the 90's. It makes it that much easier when you know how to handle people. I keep them calm and keep the whole atmosphere nice and happy."
As upbeat on the phone as he is in person, Coates says, "Whenever anyone asks me how I'm doing, I always respond 'I'm doing Motor Vehicley Sensational.' People love it. It brings them joy."
Coates says that prior to the pandemic, the tempo at the DMV could get frenetic — "There were wall-to-wall people and we worked very long hours" — but things have calmed down some.
"It's not a bad place. Compared to a couple years ago, it's much calmer. Customers aren't as irate as they used to be," says Coates, though surely that's part and parcel of his soft touch.
As for what keeps him going?
"Actually, it's just coming out and doing what I do," says Coates. "I like what I do."