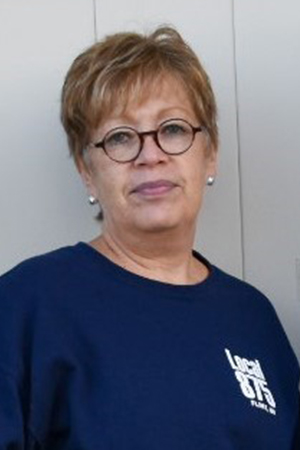 When the coronavirus pandemic hit Michigan in 2020, Maggie Schaefer could have retired from her job as a nurse at McLaren Flint Hospital. After all, she'd been on the job for more than 30 years, and at 66, she had kids, grandchildren and a long list of places she wanted to visit.
But this Never Quit Service Award winner chose to remain in her job, not only to continue to serve her patients, but to fight alongside her fellow nurses, ensuring they had what they needed to battle through the pandemic.
Reflecting on the scene at the hospital over the past year, Schaefer says, "It was like a M.A.S.H unit. Our ICU was completely full. They had changed another floor into an ICU, and then there was also an overflow floor. Two other telemetry floors became COVID units. It was very stressful, but the nurses stepped up and did what they had to do."
For some of her fellow nurses at the 360-bed hospital in Flint, Michigan, that meant separating themselves from their families at the outset of the pandemic, staying in motor homes or trailers, to ensure they would not bring anything home to their loved ones.
Other nurses who were able to retire did so. But Schaefer, a case manager and the chief steward of AFSCME Local 875 (Council 25), had other things on her mind. First came getting nurses the correct personal protective equipment (PPE) they needed in the pandemic's earliest days, when the nature of COVID-19 and the proper guidelines to prevent contracting it were still evolving.
"It was a daily fight for things to keep the nurses protected and to protect the patients," recalls Schaefer.
But the true value of nurses during the pandemic went far beyond their usual responsibilities.
"When patients were dying, it was the nurses who got the phones and tablets so families could say goodbye [because they couldn't be there in person]. The nurse was everything: They were the pastor, friend … everything. As RNs, we've never had to deal with any kind of a pandemic. This was all uncharted territory," says Schaefer.  "Everyone did their best, so we can all stay safe and do our jobs safely."
Doing her best meant Schaefer advocated and agitated day by day, month by month for her fellow nurses.
"Our local is very strong," says Schaefer. "We stood together to get what we needed, including  incentives and to make sure they had the equipment they needed to do their jobs safely."
Fighting for Schaefer isn't a new thing. For the past 20 years, she has made safer nurse-to-patient ratios a centerpiece of her activism.
"As a result, we were able to get staffing ratios in our collective bargaining agreement and we negotiated a monetary penalty for … violations. It was a long fight to achieve this. My mantra is 'Safe staffing saves lives,'" Schaefer says.   
Finally, after a grueling year, as the pandemic begins to ebb and as more people are being vaccinated, Schaefer is preparing for something she's put off: retirement. After checking off locales on her bucket list and being with her loved ones, Schaefer says happily, "Then from there, I don't have a plan."
Plan or no plan, after the year – and the career – that Schaefer has had, she's earned her rest.