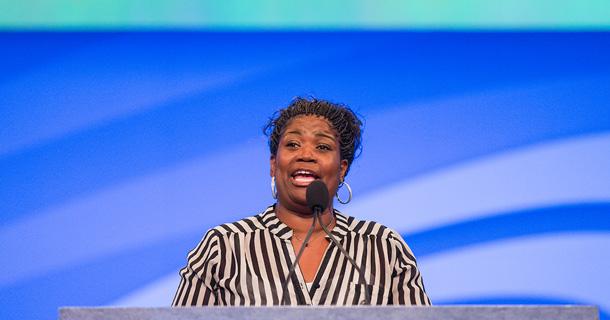 Honored for their public service, activism and innovation, 12 AFSCME members received the first ever Never Quit awards.
The Service awardees are:
Rachel Cooper (Georgia)
Stephanie Croft (Kentucky)
Niall O'Shaughnessy (New York City)
Anne Sears (Alaska)
The Activism awardees are:
Ann Marie Mathurine (Maryland)
Carolyn Park (Cincinnati)
Percy Winters (Oregon).
The Innovation awardees are:
Barbara Cooper (Pennsylvania)
Terry Magnant (Wisconsin)
Melvin Puu (Hawaii)
Eric Wisner (Missouri).
Pictured above is Atlanta school cafeteria manager Rachel Cooper. "My job is to make sure that every child that enters that building has a hot meal, even if they don't want anything but a hug," said Cooper.
Watch this moving video of Rachel Cooper receiving her award.