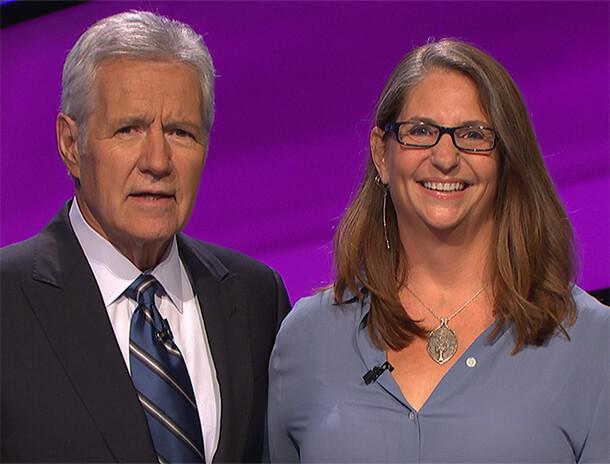 Millions dream of appearing on the long-running television quiz show, "Jeopardy!" but only about 100,000 people do the legwork to get on the program. Of those, a tiny fraction score highly enough to compete on national TV.
Wendi Rottweiler, vice president of AFSCME Local 2923 (Council 73), became part of this elite group when she appeared on the Dec. 7 show.
Rottweiler, the Iselin, New Jersey, branch librarian and an employee of the Woodbridge Public Library system, is proud of her showing though, of course, she would've liked to have finished first. More importantly, she's glad that her children – Max, 23, and Amelia, 19 – told her they were proud of her and glad she didn't embarrass them on national TV.
Winning Jeopardy! depends not just on the contestants' preparation and luck in getting the right questions but also in how quickly they press the buzzer. In that last category, Rottweiler acknowledged that the first-place winner had her thoroughly beat.
"I was up against a young man with far more video-game experience," she said in an interview, laughing.
It took her about two years from the time she took the first test online to when she appeared on Jeopardy! She went through the process once before but didn't advance to the televised final round. Making it all the way to the televised round was thrilling but not exactly a "dream or a bucket-list item," Rottweiler said.
After advancing in the online round, she went to Philadelphia to take a written test and then waited for about 1 ½ years before getting the call to show up Studio City, California, to be part of the televised round.
"When the call came it was like a bolt of lightning," Rottweiler recalled. "I don't think that my feet touched the ground that day."
As for her winnings, they were modest – the standard $1,000 for third-place finishers. She's still waiting for her check.