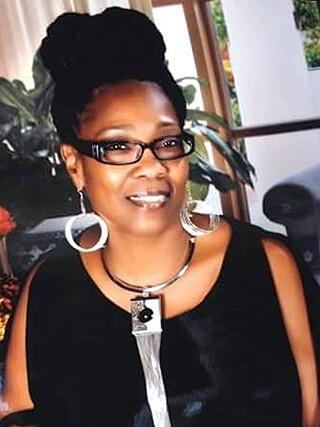 Earlier this year, Sheila Back received an email from her union that made her laugh out loud.
"My life has been so stressful lately," she says. "The other day I was so stressed out, I was telling myself I can't take it anymore. I had to remind myself that God won't give me more than I can handle. And then I got an email telling me I had won a Never Quit award. I started laughing."
Our union's Never Quit Service Award recognizes public service workers who go above and beyond the call of duty to make their communities better. Back is a member of AFSCME Ohio Council 8.
In addition to being a specialist with the Montgomery County, Ohio, Department of Job and Family Services, Back was elected in November to serve as trustee of Jefferson Township, defeating an incumbent. It's a position she sought because she loves her community and wants to make a difference.
"I was born in Jefferson Township and came back because this is home to me," she says. "It's a beautiful place to live, and I love this community. But in some ways it's falling apart, and I know that I can't complain unless I'm willing to do something about it."
AFSCME encourages its members to run for elected office. As our union's Secretary-Treasurer, Elissa McBride, put it recently, "It's great to have elected officials who support workers, but it's even better to have elected officials who are workers."
Though the past few months have been difficult for Back, she is well connected in the community and has received ample support, including from co-workers.
"Sheila is really into the community and is really good at getting people excited about their community," says Tracy Brown, a co-worker who nominated Back for the award. "At work, she's always been a great team player. She always covers for me when I'm absent and does a great job. She's just an outstanding person at work and in her own life. We all love her and appreciate her attitude."
Back sees everything she does as part of her mission to make her community better. In addition to her new role as trustee, she has been running a nonprofit neighborhood association of Jefferson Township volunteers for nearly a decade, with the goal of "being of service to our fellow brothers and sisters," she says.
As a Job and Family Services specialist, she helps determine Medicaid eligibility for residents who apply or reapply for medical benefits. Hearing the stories of those less fortunate also motivates her volunteer work.
"I've always had a heart to help people," Back says. "My parents always instilled that in me. I grew up with the mentality that if you're a friend of our family, then you're family to us. I also grew up believing that you can't forget where you come from. You have to reach back and help somebody else."
When things get tough, Back likes to recite a poem she's grown fond of. It's called "Don't Quit," by Edgar Albert Guest.
It ends with this line, which captures our union's Never Quit spirit: "so stick to the fight when you're hardest hit – it's when things seem worst, you must not quit."