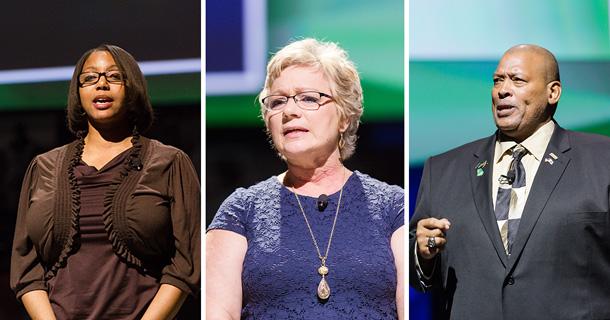 Determination. Pride. Commitment. That's what you hear when you listen to our "Our Voices," a program featuring AFSCME members fighting for fairness and justice in their communities.
Deb Hussey, a 911 call operator and member of Local 189 in Oregon, talked about the problem of understaffed 911 centers. "When you're fielding 911 calls, there's no worse feeling than having to put people on hold," she said. "But understaffing at our Multnomah County 911 center has forced us to, putting lives at risk."
Quentin Hutchins, a school bus operator and a member of Local 1644 in Atlanta, speaks out because fighting for fairness is in his heart and soul. He discussed Georgia's voter ID law, one of the strictest in the country. "Thousands of voters were given the wrong information about where to vote," Hutchins said, adding that those who arrived at the correct voting site were not allowed to vote, even if they were in line before the polls closed. "We cannot sit silent while the forces against us try to chip away at the progress that was made," Hutchins said.
Local 3437 sister Sharonda Johnson, of Flint, Michigan, knows firsthand about the importance of making her voice heard. She spoke about her city's unsafe water, and the danger it poses to children. "You know what happens when children are exposed to lead, what it does to their brains?" she asked. "They can't control their emotions. Their IQs can drop. It affects their school work, their families."
"Why did this happen?" asked Johnson, referring to the root causes of water contamination in Flint. "Because the same people who want to tear down our union because they don't like public service workers put an unelected, unaccountable manager in charge of the city where I live with my family."
"We have to fight, and we have to win," Hussey said.