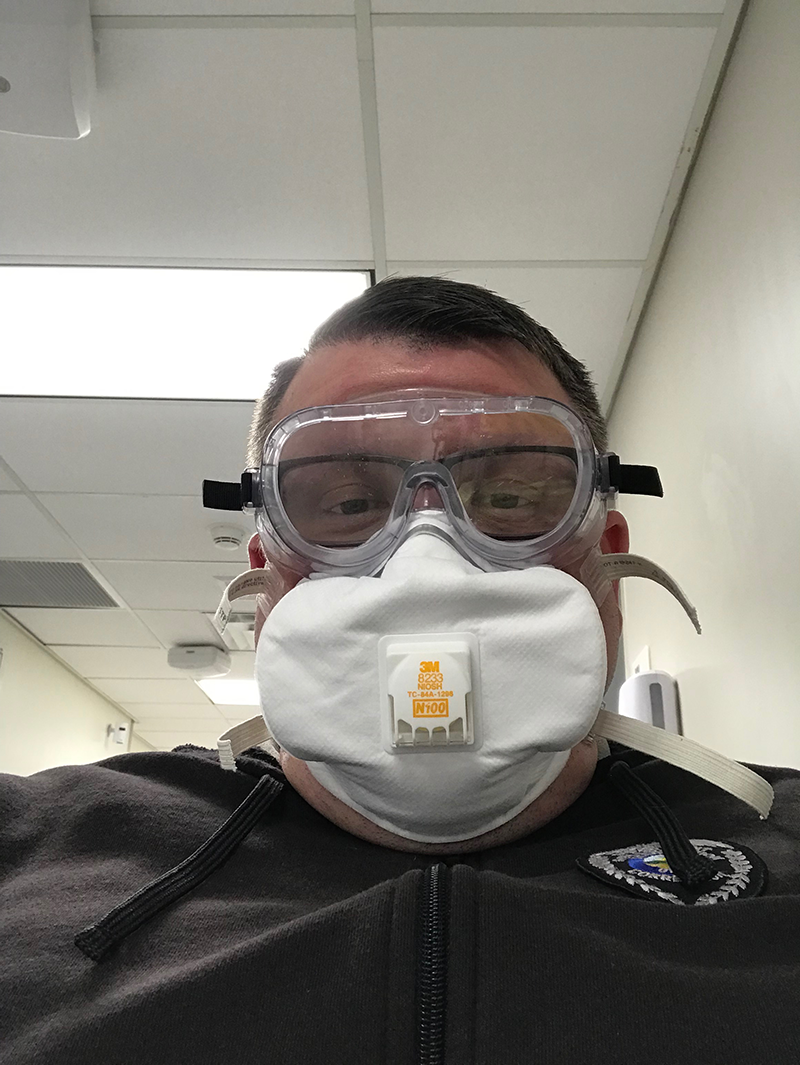 Editor's Note: The following is a story from the front lines of the battle against the coronavirus. During National Correctional Officers and Employees Week, we feature the story of OCSEA/AFSCME Local 11 member Michael Rider, president of Chapter 2758. Rider was one of three corrections officers who urged Congress last week to help financially strapped state and local governments.
"My name is Michael Rider and I work as a correction officer at Franklin Medical Center and the Ohio State University (OSU) Wexner Medical Center in Columbus.
"Franklin Medical Center serves as the main medical hub for offenders in need of health care. We see it all – from victims of violent assault to people battling cancer and undergoing chemo. COVID-19, however, has totally overwhelmed our system.
"At OSU, we have a secure prison unit within the hospital, but some offenders are also housed in satellite rooms outside of this area. Typically, we have a maximum of 25 satellite rooms in the hospital, but this crisis has hit Ohio corrections so hard that last week we had 106 patients in satellite rooms outside of the prison unit.
"Since each satellite room is required to have an officer stand guard outside of the door, the manpower required to monitor all of the offenders totals our entire staff during a single shift at both the Franklin Medical Center and OSU Medical Center. That's our total operation.
"To deal with this crisis, corrections officers have been mandated to work 16-hour shifts, usually four or five days in a row. The National Guard and even parole officers are coming in to help us with this unprecedented demand.
"Recent changes to protocol have also compromised our safety. Instead of having one officer assigned to each door, we now have a floor with 10-12 inmates together and only one correctional officer and two National Guardsmen standing by.
"While the severe understaffing is upsetting and presents an extra threat to our safety, what we are most concerned about is the continued lack of personal protective equipment. When news of this pandemic first hit, we were not given any masks – even after the governor had declared a state of emergency. We had to fight hard to even be allowed to bring in our own PPE from home.
"Since then, we have been given surgical masks, which only help prevent you from spreading the virus. They don't protect you from contracting it unlike the N95 mask. When we enter the facility, we are required to go through a series of security measures which include temperature checks and answering screening questions. But what is the point of going through all of that if, at the end, they just hand us a mask that can't protect us from the war zone we are about to enter?
"We need the federal government to stand up and do right by workers on the front lines. We need the federal government to provide for state and local funding, so we can focus on maintaining safety and security for offenders and medical staff in our hospitals. We can't afford to lose anyone, especially since we are already understaffed.
"We must take this virus very seriously. Many of our co-workers have gotten sick and, unfortunately, one of our colleagues has been in the hospital for more than three weeks, fighting for his life on a ventilator. What's even more tragic is that he lived with his elderly mother who is now sick and also in the hospital.
"We are standing alongside medical professionals in the fight for our lives. We simply want to be treated with that same dignity and respect."