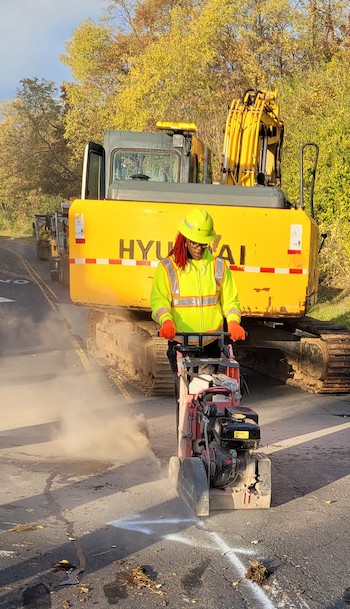 She's come a long way in a short amount of time.
Last year, Fatimah Taylor had just started working for Pennsylvania's Department of Transportation (PennDOT) as a temporary highway maintenance worker.
Today, Taylor has completed a training program that earned her a commercial driver's license (CDL), mastered driving dump trucks, snow plows, front-end loaders and a half-dozen kinds of heavy equipment, and shown such an aptitude and eagerness to learn that her supervisor, Brian Epright, claims he's never seen anyone so motivated in his entire career in public service.
"She's a cut above the rest," says Epright, who nominated Taylor for AFSCME's Never Quit Service Award.
Epright has been with PennDot for 15 years and has been a supervisor for six, but he's never had an employee like Taylor.
"I never met someone who learns so quick," says Taylor.
Epright happened to meet Taylor, a member of Local 2159 (District Council 88), on his day off. He'd come back to help supervise a paving job, where Taylor was working as a brand-new flagger. He introduced himself and learned that she'd worked for the commonwealth before – at a state-run hospital in Norristown back in 2005, before taking a step back to care for her four kids.
Epright was impressed with Taylors' work ethic from the start and sensed even then, "Something was different about her."
It wasn't long before Epright saw what made Taylor stand out. When they got a call about an open manhole cover, he and Taylor went to the township yard to pick up a replacement cover.
"These things are like 200 pounds," said Epright. "Usually, you need three people to lift them."
Epright put in a call for a third person to help them, but Taylor said, "What are we waiting for?"
"She helped me lift the thing onto the truck," said Epright. "This woman has amazing strength."
Epright isn't talking strictly about her physical strength.
"Everything she does, she does with professionalism," says Epright. "She's the first in the hole to get the pipes in. She has no problem breaking blacktop. You show her once and let her go to town."
Taylor's talents go beyond a knack for picking things up quickly.
"I may be a little biased because she's on my crew, but she's a 43-year-old woman who outworks guys under 30. She's using a jackhammer, cut saws … I showed her once how to do it then I stepped back. She's basically my mason now. It's stunning," Epright says.
A year ago, Taylor had been waiting to hear back about a job through the state's liquor control board, but the PennDOT opportunity came through first. However, the job as a highway maintenance operator – where she met Epright – was only temporary, due to end in October.  
"The summer program was about end," recalls Taylor. "I thought 'What should I do?' I went to the DMV (Department of Motor Vehicles) and I took the CDL permit. I passed it. I showed PennDOT I got my permit. Then I trained on trucks and equipment. I had to go near Harrisburg to do a real certification, where I got a real license. They hired me as a trainee for about a month or two, then promoted me to an operator A."
In short order, she was promoted again, and by March, she was a full-fledged operator.
"I can do whatever I say I'm going to do," says Taylor of those who doubt her abilities. "I like to prove people wrong. They say, 'She can't do that. She's girl.' I hate when people say I can't do something. I really can do anything."
Taylor says she gets text messages from her kids – three of whom are grown and out of the house, one of whom, 13, still lives with her – saying how proud they are of her. And she feels proud, too.
"I like fixing the roads. When you ride down a street that you fixed, you can say: 'I did that.' I feel like I'm really doing something."
Taylor admits that the work can be tiring, but she has no regrets about her new job, or the job at the liquor control board that never panned out.
She says, "I feel like if you don't get dirty at work, you're not working."