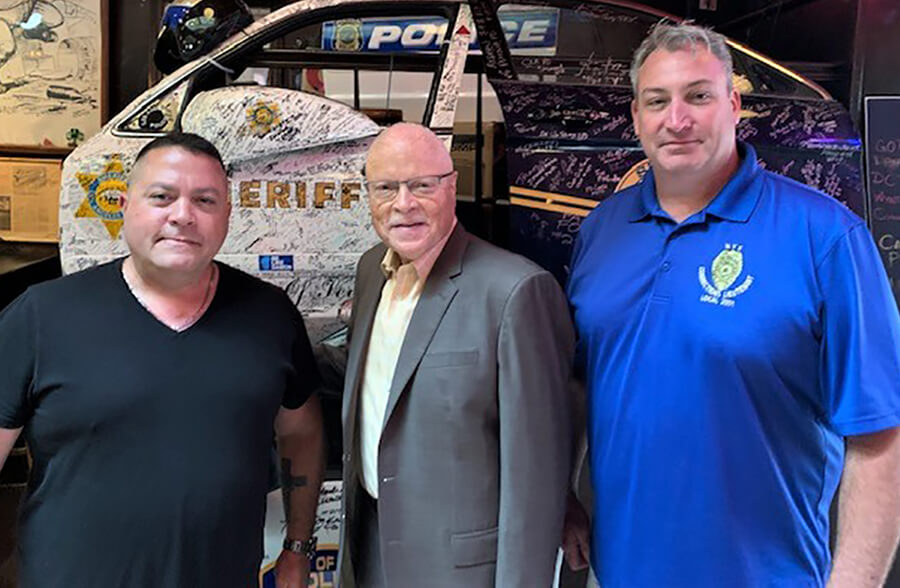 Here's a good news story just in time for National Law Enforcement Week.
More than 400 members of AFSCME Local 2951 (Council 82) have gone without a contract for a long time as talks with the state of New York hit a wall.
The corrections lieutenants, safety and security officers, and hospital security supervisors who make up Local 2951's membership have years without a raise, even as they continue to ably serve their communities during the devastating COVID-19 pandemic.
Through it all, Local 2951 has been a model of persistence. The negotiating team kept up the pressure for a fair contract. Members kept pushing for an agreement that would value their contributions to their communities and show them the dignity and respect they deserve.
A few months ago, in a strong show of unity, 95% of the members endorsed a petition seeking a fair contract. The local and the council also continuously received AFSCME International's assistance, which helped break down the final barriers to securing a contract.
All those efforts paid off this week.
Council 82 – also known as the New York State Law Enforcement Officers Union – reached a tentative agreement with the state of New York for a 7-year term running until March 31, 2023. The TA is subject to ratification by members. Ballots are in the mail and the votes will be tallied on May 27, according to Council 82 President Ronald Walsh.
The TA covers corrections, law enforcement and security supervisors in the Department of Corrections and Community Supervision, Office of Mental Health, Office for People with Developmental Disabilities and other agencies.
It includes a 2% raise for each year of the TA agreement and increases to hazardous duty pay, command pay and location pay. It also makes changes to health insurance and disciplinary matters in line with other recently negotiated collective bargaining agreements.
A big sticking point in the past was the state's refusal to provide retroactive pay raises, which this TA includes.
In a May 9 letter to members explaining the TA, Local 2951 President Tom Ingles wrote that the negotiating team worked hard to provide retroactive pay and make sure no member was "excluded based on their retirement planning, death or medical termination."
Walsh applauded Local 2951's negotiators and rank-and-file members for staying united during years of difficult negotiations and thanked AFSCME International for coming through with resources to achieve the contract breakthrough.
In an interview with AFSCME Now last week, Walsh expressed optimism that members will ratify the TA.
"It's a very fair contract. You go seven years without a raise – during these difficult times – and it's important to the members," Walsh said.
Asked what message this victory sends to unorganized workers, Walsh noted that a relatively small number of members stood up to the giant state of New York and won a fair TA because of the power of their collective voice.
"You stand together, you stand firm. (The members') unity got them the contract they deserve," Walsh said.
In a press release, Gov. Kathy Hochul said: "Each day, these public servants work tirelessly to protect some of our most vulnerable populations, and this agreement recognizes the importance and value of their service."
Council 82 represents over 3,000 correction officers, police officers, deputy sheriffs, emergency dispatchers and other public safety employees across New York state.