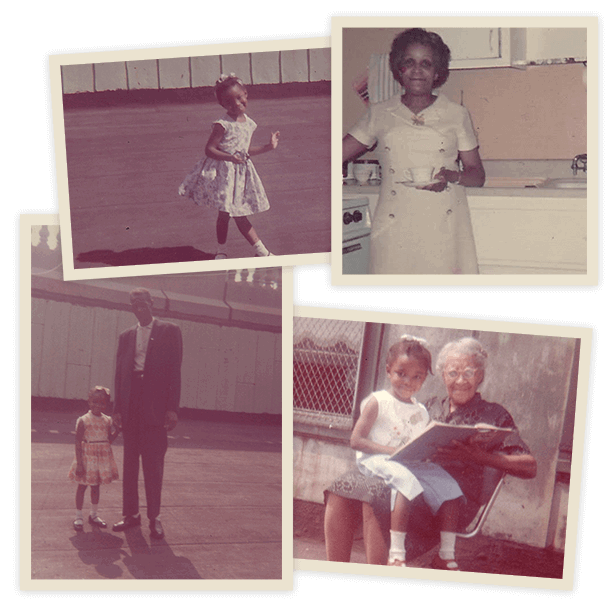 Deep in the annals of the jobs we once did lies the New York City Public Library live-in custodian. Occupying a small apartment in the library with his wife, child and mother-in-law, George King Washington's task was to keep the furnaces going.
The family motto was, "Don't let that furnace go out." It was grueling work requiring great strength as Washington shoveled coal into the large furnace in the basement of the St. Agnes Branch of the New York City Library. He kept it going 24 hours a day, seven days a week.
In the mid-1960s, Washington and his wife Connie lived at the St. Agnes Branch Library on the Upper West Side of Manhattan with their daughter Sharon, mother-in-law Cassandra and their dog Brownie. He retired, moved to South Carolina, collected his pension and passed away in 2006.
End of story, right? Not so fast.
Daughter Sharon Washington – story teller and actor, best known for her stage, film and television work with reoccurring roles on Fox TV's Gotham (2014) and Law & Order: SVU – has chronicled her experience from inside the library and what it meant for her family in her play, "Feeding the Dragon." In it, Sharon recalls her life running around the library after hours, endlessly reading and often "imagining who else held these books" that riveted her.
Her talents were recognized from an early age. In the second grade, the vice principal at her Upper West Side public school alerted her mother of her amazing academic ability and recommended sending her to Dalton, a private school for well-to-do families. While Sharon did receive a partial scholarship, the Washingtons scrimped and saved to afford the tuition.
Sharon describes the life of a little girl of "two worlds" – the haves and the family living in the library working to get by. Her classmates enjoyed extravagant, expensive private parties for their birthdays. For hers, she would have her best friends over to the library.
Families in Sharon's economic situation relied on clinics and other social services for their medical care, but the Washington family enjoyed quality health care provided through George's good union job. "As a child, I never went to a clinic," Sharon recalled in an interview. "I had a regular doctor. When I went off to college, the doctor I had most of my life wished me well. I had a doctor because of DC 37," New York City's largest public employee union and an AFSCME affiliate.
Her father would always say, "It's that union. They took care of everything," Sharon recalled. "My father was really proud to be part of a union."
When her father retired and moved to South Carolina, his union health insurance continued. Sharon said that was a "great relief" for her.
Asked why she decided to tell her family's story now, through her play, Sharon said, "I want to preserve the history for me and everyone else." Memories were fading even for her, she explained, and wanted to "keep the story alive" through her writing.
Her father's story is an important part of the history of working families in New York City, one that far too few know about. If not for that job, her family may not have had a place of their own to live. If not for the children's librarians reading to Sharon, she might never have become a storyteller.
Sharon's play, "Feeding the Dragon," will have its world debut at the Pittsburgh City Theatre in Pennsylvania, on Oct. 22, 2016. It is as if Sharon's new furnace is the life and legacy of her loving union parents. Even though technology has rendered the coal furnaces and the live-in maintenance worker obsolete, Sharon remains committed to sticking to her family's motto, keeping the story alive and not letting the furnace go out.