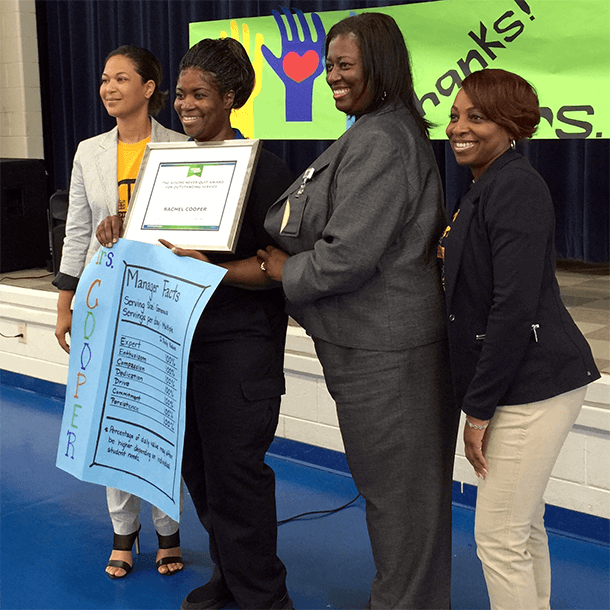 As a cafeteria manager with an elementary school and an intermediate school Rachel Cooper (Ms. Cooper to her students) does so much more than taking care of breakfast, lunch and snacks for her charges. She believes that her job means more than providing healthy, fulfilling meals. "When you feed a child, you nourish their souls."
Ms. Cooper was honored for her commitment to public service with the AFSCME "Never Quit" Service Award at her intermediate school. In the audience watching her accept the award were fellow staff, teachers, administrators and Atlanta Public school board members as well as hundreds of her students. It was a surprise event that the entire school community, her AFSCME Local 1644 family and the students had been planning for weeks.
Students made signs and recorded messages of thanks and support for Ms. Cooper weeks in advance. The principal of Miles Elementary School also held the surprise event in the gym, quieting more than three hundred students before Ms. Cooper's entrance.
"Ms. Cooper is the best cafeteria lady ever – she makes sure we have really tasty food to eat at breakfast and lunch. I love her," Rosa Guiterrez shared on video when she was asked what Ms. Cooper means to her.
The AFSCME "Never Quit" Service Award celebrates members who demonstrate great pride and dedication in their work by going the extra mile in during the course of their daily duties.
As a public servant, Rachel Cooper does not believe her work as a cafeteria manager is a job, it is a calling.
And that is one reason why she was honored.