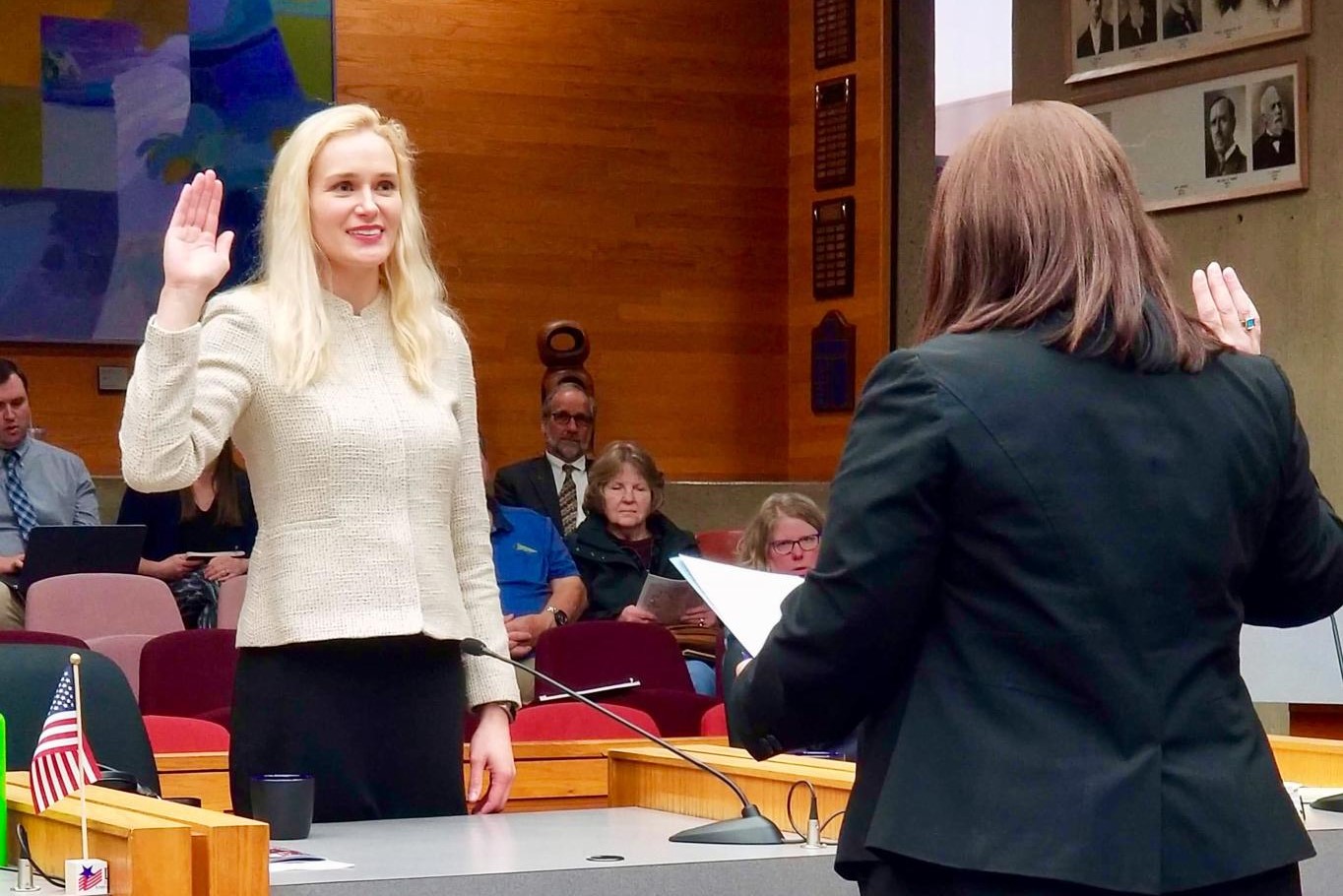 SALEM, Oregon – As a newly appointed Salem City Councilor, AFSCME Council 75 member Vanessa Nordyke takes public service seriously.
After a councilor left her post for personal reasons, Nordyke, a senior assistant attorney general at the Oregon Department of Justice, was urged to seek the position. While not the only resident vying to the seat, at the city council's vote, Nordyke received the most votes and was sworn in as Salem's 7th Ward council representative.
Looking ahead, Nordyke believes her experience as the vice chair of the Citizens' Budget Committee as well as her time on the Youth Advisory Commission, Social Services Advisory Board and the Community Police Review Board have provided her with the background necessary to advocate for all of her constituents.
"Representing public servants both in my role with the Department of Justice and now on the Salem City Council is a real honor. They're constantly being asked to do more with less, and I'm thrilled to be able to fight for those who do so much for our communities," said Nordyke.
She told the Statesman Journal of Salem, "As city councilor, I will prioritize finding win-win solutions that allow growth, ensure the best bang for taxpayer buck, and address homelessness while improving livability and neighborhood amenities, like parks, open spaces, and trees."
This will be far from Nordyke's first endeavor in advocating for causes she cares deeply about. Nordyke dedicated herself to fighting the stigma surrounding mental health in her community, specifically the legal and public service fields.
At the Oregon AFSCME 2019 Convention in April, delegates passed a resolution supporting HB507, which creates a presumption for public safety workers that PTSI and other stress-related conditions are work related for the purposes of workers' compensation benefits. In the most recent legislative session, Oregon AFSCME members were instrumental in passing this important legislation.
"Last spring I attended Oregon AFSCME's convention as a first time delegate, and that was a real game changer for me. While I work with correctional officers every day in my role with the Department of Justice, I was struck at how my union was fighting to increase mental health access for everyone who work in fields where they face traumatic situations on a daily basis," said Nordyke.
In 2018, Nordyke made history as the youngest ever-elected president of the Oregon State Bar. As president, she spearheaded a statewide mental health initiative for the Oregon legal community. Her passion for destigmatizing mental illness led Nordyke to develop and conduct mental health trainings all over the state. Under her leadership, Oregon became one of the first states to mandate mental health and substance abuse training for every lawyer in the state. She now provides training to employers on how to incorporate trauma informed care in practices into the workplace, to reduce employee burnout and turnover.
Marc Abrams, president of AFSCME Local 1085, which represents Oregon Association of Justice Attorneys, has seen Nordyke stand up for working people firsthand.
"Vanessa has a dedication to helping others that is evident from her work both in the community and at the Department of Justice," Abrams said. "She will bring both skills and sensibility about working people to the Salem City Council."