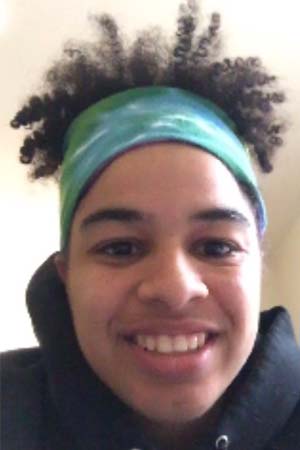 Cheyenne Garstad is an advocate coordinator at the Middlesex County, New Jersey, Center for Empowerment, which is part of the county's Department of Public Safety and Health.
She trains and manages volunteer advocates who support survivors of sexual violence and provides such support herself. This may involve being present at every stage of a police investigation following a crime of sexual violence, answering a hotline for survivors, being on call 24/7 every other week and more.
"My job is difficult, but it's difficult on a different level than that of a rocket scientist," Garstad says.
"Cheyenne has an enduring capacity to hold space for people in ways that go above and beyond what is reasonable," says co-worker Jeffrey Anthony. "I don't think people appreciate how much she gives on a daily basis."
To "hold space" is to be present with someone; showing empathy; acknowledging and validating whatever a person is going through at that moment. Anthony says Garstad has an amazing ability to provide emotional support to survivors despite the constant exposure to their trauma.
"She does her job with compassion and integrity for every survivor and every advocate," he says. "She always shows up for people."
For her service to her community, Garstad is a winner of AFSCME's Never Quit Service Award, which recognizes public service workers who go above and beyond the call of duty to make their communities better.
Garstad is a licensed clinical social worker and licensed therapist, and she has a master's degree and several years of post-master's experience in social work. To her, what she does isn't just a job, it's a calling.
"I was born to be a social worker," she says. "I have known since I was 14 years old that I was for sure going to school to do this."
It was while studying for her master's at Rutgers University that she found out about the Center for Empowerment.
"I first applied to be a volunteer here and did that for 2 ½ years," Garstad explains. "Now I run the advocate program where I train and supervise all of the other volunteers. It was a great transition for me."
There is hardly a typical day on the job for Garstad. Some days she is at the courthouse providing support for a survivor or testifying in front of a judge. On other days, she is training new advocate or might be with a survivor at a police station or a hospital.
"The biggest part of what we do is empowerment," Garstad explains. "We make sure that survivors know their rights. We make it clear that they have a choice in everything that we do, and we follow their lead. We never tell survivors what to do – we don't give them advice. We provide options and then allow them to make whatever choice meets their needs. And whatever they decide, we support them in that."
With a job like Garstad's, it's important to have a strong support system of your own. Garstad says she relies on her family – she and her wife have a 2-year-old daughter and a baby on the way – as well as on her teammates at the Center for Empowerment. Her own mother is a volunteer at the center.
Despite how emotionally taxing her job is, Garstad loves what she does. She says she is motivated to go above and beyond by the survivors themselves.
"Ultimately I enjoy going to a police station and being there for someone, not letting them go through that alone," she says. "That is the thing I enjoy doing. That is the thing that makes me feel not just good but like it's worth it. Sometimes it's as simple as showing up."