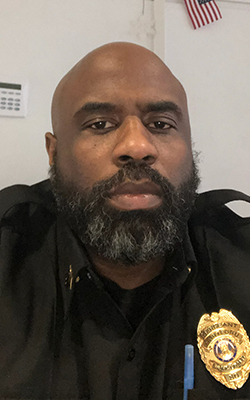 Homelessness, mental illness, the opioid epidemic – these are just some of the issues that Dwayne Googe, a security guard at the Hartford Public Library in Connecticut, deals with on a daily basis.
"The library is a public place, so whatever plagues the urban setting plagues the library," he says.
Yet the former correctional officer, who is originally from Hartford County and has been a security guard at the library for five years, says he and his co-workers don't get the pay and recognition they deserve from the city.
"We're not guarding an empty building," he says. "This is not a regular security guard job. We're vastly underpaid for the work we do."
That's why Googe, who is a member of AFSCME Local 1716 (Council 4), decided to become more involved in his union. Earlier this year, he became a union steward.
"I felt it was the right time to step up," he says. "We've never had a union steward that represented the security guards for the library."
Googe believes in the union difference. He was an AFSCME member back when he worked in corrections and knows the benefits first-hand.
"I've seen a couple of individuals who were in trouble and the union saved their jobs," he says. "The union is how we negotiate fair wages on our behalf. … Some of my co-workers are on the fence about being in a union, they feel the union doesn't do enough for them, but when the union negotiates you don't always get everything that you want. The employer doesn't get everything they want either."
Googe is still learning the ropes of being a union representative. He says his union is providing the necessary training.
"Last time we negotiated a contract there was no representative for the security guards to give them a voice," he says. "I hope I can be that voice, and I hope that we are heard."