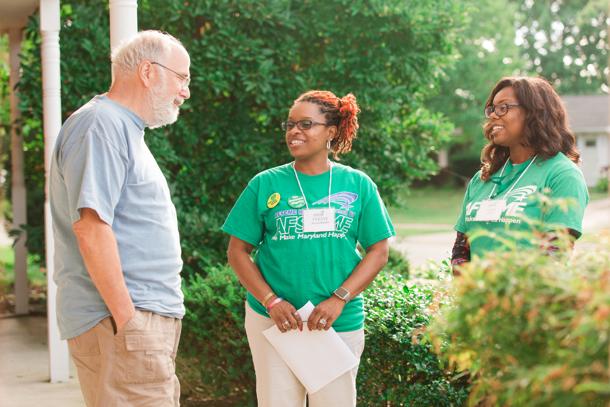 Through the Women's Leadership Academy, AFSCME women members develop leadership skills with mentors, creating a community of support and the ability to build power in their local unions.
The eight-month Academy includes a five-day orientation session, completion of a local union or council project or campaign, and a three-day final session. This year's orientation session was held in mid-August in Columbus, Ohio.
Yvette Silas-Pinson is one of dozens of participants in the Academy. She is a school health aide for the Baltimore City Health Department and member of AFSCME Local 44 (Council 67).
Q: What did you like best about being part of the Academy this year?
A: It was absolutely wonderful! I would say it was life changing. To be in a room with 29 women leaders from different parts of the country, as far away as Alaska, was amazing. I've gained a whole new sisterhood.
Q: What did you learn from your AFSCME sisters?
A: I learned to be more confident. These are women who work hard to try to impact and change their role to be able to make a difference. I felt proud of myself and what I've done, and at the same time I gained new insight into how to address my problem areas. It showed me that it's okay to love and care about your co-workers and friends. We spent a week together and none of us wanted to separate.
Q: I know you helped build your union by knocking on some doors and having one-on-one conversations with other AFSCME members.
A: Yes, we talked about our union and many of them recommitted to our union. Some even joined for the first time. I guess I'm kind of good at it!
Q: What leadership role do you play in your local?
A: I'm a shop steward for my local. When I first joined our union I wasn't active. I didn't know what a union was; I didn't know where my dues went to. So I started asking questions and a young lady who was a school health aide said she needed help with union matters. That was three years ago. So she introduced me to the union and ever since then I've been rocking and rolling!
Q: What motivates you every day?
A: It's the fact that somebody helped me. I'm adopted, and that means somebody changed my life. That's why I always wanted to impact somebody else's. I've got passion, and I can't turn it off. Even when I want to it's always there, it's always present.